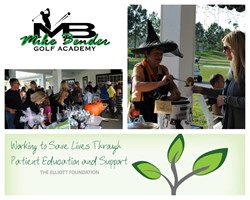 Lake Mary, FL (PRWEB) October 18, 2013
This year marks the 6th Annual Turning Up the Heat on Brain Tumors Chili Cook-off to raise money for brain cancer patient support and research for the Chris Elliott Fund. The cook-off will be held at the Mike Bender Golf Academy, at the Magnolia Plantation Golf Club in Lake Mary, Florida on Sunday, November 10th, 2013 from 2:00 to 4:00pm. The event also features a silent auction, wine basket raffle, vendors and more. Suggested donation of $5 for your bowl and spoon for the chili tasting.
This is the sixth year event coordinator Cindy Rogalski has raised money for this disease and the Chris Elliott Fund (CEF). Cindy became involved in CEF when she lived in the Seattle-area attending the non-profit's annual gala. It wasn't until her mother was diagnosed with the most aggressive form of brain cancer, Glioblastoma, in 2007 that she fully understood the value of CEF's care and support for brain tumor patients. Rogalski speaks of her experience with Dellann Elliott, CEF Co-founder and President, during her mother's battle with the cancer: "Dellann was amazing, she made sure my mom's case was reviewed by top doctors and we felt at ease knowing what we we're doing was the best for mom."
Rogalski describes the cook-off as a very fun event that brings together the quiet but large community that has been touched by this aggressive disease. This year's cook-off hopes to feature even more vendors than years past and involve local restaurants as an element of the competition.
Rogalski also has national goals. The impact she has made thus far in her community has served as inspiration for a national day for CEF awareness. Her goal is to have at least one chili cook-off in every state over the next 3 years: "in one afternoon if a chili cook-off in every state could raise even just $1,000 that would be huge, $50,000 for CEF!" says Rogalski. She has also made a step-by-step planning list for individuals interested in taking part in their own chili cook-off, in any community. Cindy encourages all who might be interested in hosting their own Chili cook-off to get in touch with her: "Let's get this to a national level. I will be there for you all of the way, just raise your hand."
CEF President Dellann Elliott is excited to once again be involved with the Chili Cook-off, "We're in a growing stage right now at CEF and we're ecstatic to have national supporters spreading the word coast-to-coast, like Cindy. Her goals to make the Chili cook-off a national event is courageous and such a simple way to make a difference to End Brain Cancer."
About Turning Up the Heat on Brain Tumors:
After her mother's battle with Glioblastoma Cindy Rogalski (Turning up the Heat's event coordinator) was compelled to make a difference for brain cancer, despite living in Florida, so far away from CEF. She started the neighborhood cook-off planning and carrying out the volunteer-run event. Over the past 4 years Cindy and her team of brain tumor warriors have raised almost $8,000 with ease, in one afternoon with very little time and preparation. Turning Up the Heat on Brain Tumors has simultaneously served as a fundraiser and an awareness event for brain cancer research, patient care and the Chris Elliott Fund. Find out more about Cindy's cook-off on their Facebook page and for more information on Cindy's step by step instructions for putting on your own Chili Cook-off for brain tumors, see CEF's blog. Cindy Rogalski can be reached at rogalskigang(at)yahoo(dot)com or at 480.784.7872.
Facebook Event Page: http://www.facebook.com/chilicookoffturninguptheheatonbraintumors.
About The Chris Elliott Fund:
The Chris Elliott Fund (CEF) is a brain cancer and brain tumor patient advocacy organization and national 501(c)(3) non-profit with corporate offices in Seattle, Washington. Established in 2002, Chris Elliott Fund's mission is to end brain cancer by expanding patient access to specialists, advanced treatments and comprehensive support programs. The organization and its advocates directly serves 400+ patients and caregivers every month free of charge. CEF is a member of the Society for Neurooncologists, American Association of Neuroscience Nurses, American Cancer Association for Cancer Research, Washington Biosciences Association, among others. If we can help, please contact us at WeCare(at)EndBrainCancer(dot)com.