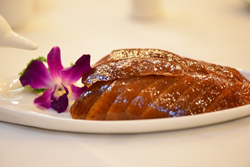 An exquisite 16-course feast, the Beijing Banquet offers a culinary experience fit for a President... at an affordable price.
San Francisco, California (PRWEB) May 06, 2016
With decades of experience preparing authentic Chinese food, Chili House SF owner Li Jun Han and executive chef Tong Gang Wang can both boast that they have served fixed course banquets for presidents. Today the pair of culinary masters share their traditions with guests at their popular San Francisco Chinese restaurant through the debut of their new Beijing Banquet offering.
As an 18-year-old cook at a Beijing hotel, Chef Wang was a member of the team tapped to serve Richard Nixon on the U.S. president's historic first visit to China. Owner Li Jun Han himself cooked for two Chinese presidents before immigrating to California. As described in a recent feature in the San Francisco Chronicle, the duo has been plotting a "shift in direction, introducing more Beijing fare like hand-pulled noodles, Beijing pot stickers and lamb hot pot."
The culmination of this shift in the restaurant's culinary approach is the new Beijing Banquet offering. An exquisite 16-course offering for a minimum of 8 guests, the Beijing Banquet must be reserved in advance. Courses can be custom tailored for individual party's requests. The sample banquet menu balances a tantalizing blend of traditional and innovative dishes from Beijing court classics with Beijing to Chinese street food.
Starting at $45 per guest + tax, the Beijing Banquet offers a culinary experience fit for a President, only at a price point where one needs not reside in the Oval Office to afford it.
Items from the suggested menu for the 16-course banquet include poached chicken with ginger sauce, strips of bitter melon served over crushed ice with an apple cider-honey glaze, braised baby spareribs with mint, Peking duck with steamed pancakes, Beijing-style pot stickers, Dan-Dan noodles with ground pork and fragrant chili oil, and much more.
Chili House SF is located in the heart of San Francisco's Richmond District at 726 Clement Street. Located near a trendy shopping district and Golden Gate Park, the restaurant is only a five-minute drive from the Golden Gate Bridge, making it a popular choice with tourists and locals alike. Call (415) 387-2658 for reservations or reserve online.