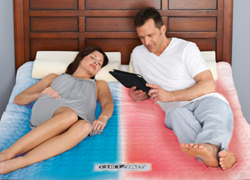 The ChiliPad has truly been magical for our patients. It is wonderful, easy to clean, safe for medical institutions and an all-around great product.
Charlotte, NC (PRWEB) November 23, 2015
Chili Technlogy, creator of ChiliPad, has partnered with Exceptional Care for Children to donate ChiliPad Cube units to children in need this fall. Exceptional Care For Children is a pediatric skilled nursing facility in Newark, Delaware that cares for medically fragile children. At the facility, Chili Technology has changed the lives of patients through the use of the ChiliPad. Previously, many patients had been unable to regulate their body temperature, with several being on the verge of being discharged to the hospital due to the severity of their condition. In a last-ditch effort to help their young patients, the staff at Exceptional Care ordered the ChiliPad after a desperate search on the Internet.
One Exceptional Care for Children patient who needed the ChiliPad at all times to maintain his temperature struggled with the limitations of having to remain on the mattress pad. While it helped him remain healthy, it left him unable to play or interact with the other children. When Chili Technology learned of the boy's plight, the company sent him a custom-made, Spiderman-themed wearable blanket featuring the temperature-regulating technology. No longer confined to his bed, the young patient was allowed to move freely and enjoy the company of other children.
"The ChiliPad has truly been magical for our patients," Traci Martin, director of nursing at Exceptional Care, said. "It is wonderful, easy to clean, safe for medical institutions and an all-around great product."
With its ability to heat up quickly and consistently, the ChiliPad has allowed these children to regulate their body temperature and remain at Exceptional Care rather than return to the ICU. It has also saved these families over half a million dollars in Medicaid costs.
Unlike other products, ChiliPad uses its patented system with water to regulate the temperature, which produces a more concentrated temperature than circulated air. This process also allows precise temperature control down to the degree, unlike most methods that use circulated air. Chili Technology uses water to generate a wide range of in-bed temperature control from 55 to 110 degrees Fahrenheit at a fraction of the cost of air conditioning while using less energy than a lightbulb.
ChiliPad is just one product in Chili Technology's line of temperature-controlled sleep products. Other products include passive cooling body pillow pads. Chili Technology's mattress pads include dual-zone and single-zone temperature options. For more information about ChiliPad and its benefits and uses, visit https://www.chilitechnology.com/.
ABOUT CHILI TECHNOLOGY LLC:
Chili Technology is a fast-growing private company headquartered in Mooresville, N.C., with established worldwide distribution of patented products that actively and passively regulate temperature for the sleep environment. Its sister company, T2 International, has been listed on Inc. Magazine's 500 – 5000 rankings for five consecutive years and is known for its reputation of commercializing new technologies and leveraging market opportunities. For more information, visit http://chilitechnology.com.