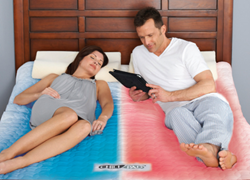 The ChiliPad has been truly magical for our patients. It is wonderful, easy to clean, safe for medical institutions and an all-around great product.
Charlotte, NC (PRWEB) September 21, 2015
ChiliPad, the dual temperature-regulated mattress pad, has been touted to provide various health benefits and has even been adopted for use in hospital units. Unlike other products, ChiliPad uses its patented system with water to regulate the temperature, which allows precise temperature control down to the degree, unlike most methods that use circulated air.
A pediatric nursing facility in Delaware, Exceptional Care For Children, has seen ChiliPad improve the lives of four patients who were previously unable to regulate their body temperature. With its ability to heat up quickly and consistently, ChiliPad has allowed these children to regulate their body temperature and remain at Exceptional Care rather than return to the ICU. The medical and financial advantages of the ChiliPad have been so beneficial to Exceptional Care that the hospital has received a grant to purchase additional ChiliPads for its patients.
"The ChiliPad has been truly magical for our patients," said Traci Martin, director of nursing at Exceptional Care. "It is wonderful, easy to clean, safe for medical institutions and an all-around great product."
Other ChiliPad users have seen its precise temperature regulation relieve pain from endometriosis and arthritis. ChiliPad's moist, consistent heat has been proven to penetrate 27 times deeper than that of a traditional heating pad and thus offers unparalleled comfort to those who suffer from aches and pains throughout the night. Partners of those who suffer can sleep better as well since ChiliPad is dually controlled, and users on either side of the bed can individually set their ideal sleep temperature.
The benefits of a cooler night's sleep are medically proven to increase REM and deep sleep during the night, resulting in a better night's rest. Research suggests that the optimal sleep temperature is from 60 to 68 degrees Fahrenheit, a temperature that would be expensive to achieve or sometimes impossible with air conditioning, but can easily be controlled with ChiliPad.
ChiliPad is just one product in Chili Technology's line of temperature-controlled sleep products. Other products include passive cooling body pillow pads. Chili Technology's mattress pads include dual-zone and single-zone temperature options. For more information about ChiliPad and its benefits and uses, visit http://chilitechnology.com.
ABOUT CHILI TECHNOLOGY LLC:
Chili Technology is a fast-growing private company headquartered in Mooresville, N.C., with established worldwide distribution of patented products that actively and passively regulate temperature for the sleep environment. Its sister company, T2 International, has been listed on Inc. Magazine's 500 – 5000 rankings for five consecutive years and is known for its reputation of commercializing new technologies and leveraging market opportunities. For more information, visit http://chilitechnology.com.