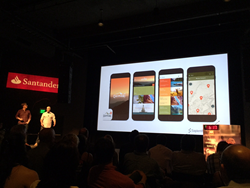 Our entire SapientNitro team has been thrilled by the opportunity to help invent and visualize the future of Chimani
Portland, Maine (PRWEB) August 10, 2015
Chimani, the leading developer of mobile app destination guides for National Parks was selected as a winning startup in the Boston Ad Club's 2nd Annual Brandathon on Thursday August 6, 2015 at the Revere Hotel in Boston, MA. The Brandathon is a competition that pairs 12 promising startups with 12 of Boston's top ad agencies who invest more than $100K worth of resources to create a new brand campaign specific to the company.
Chimani was paired with SapientNitro who presented their brand campaign during a live pitch presentation to 12 of the region's top creative and business industry leaders during Thursday's event. After being awarded third place, Chimani was granted full, unrestricted rights to use the campaign created for them.
"SapientNitro was able to rebrand Chimani in a way we never thought possible — their pitch blew us away!" says Chimani CEO and Co-Founder Kerry Gallivan. "We're excited to integrate their ideas as we continue to grow our brand."
The highly qualified judging panel was made up of 14 industry experts including Marty St. George, EVP, Commercial & Airline Planning for JetBlue, Danielle Duplin, VP of Fidelity Investments, Paul Schauder, VP of Brand from LogMeIn and David Chang, former COO of Paypal Media Network.
Chimani was selected from more than 80 original startups after submitting a video pitch and bio to the Brandathon competition website which began on July 6th. On July 22nd, based on the popular vote, the field of startups was whittled down to 25. The agencies were then asked to make a wish list of startups that they would like to work with — only the top 12 startups made the cut. After being chosen as one of the final 12 startups worthy of participation, Chimani was paired with the international ad agency, SapientNitro, who has worked with brands such as Audi, Hugo Boss, Target, and Unilever. The SapientNitro team worked for 72-hours straight to create a brand campaign specifically for Chimani.
"Our entire SapientNitro team has been thrilled by the opportunity to help invent and visualize the future of Chimani," says Barry Fiske, VP, executive creative director, SapientNitro. "We hope our creative and strategic ideas will inspire the Chimani team and have a profound and lasting impact on the success of this new and rapidly growing brand"
About Chimani
Based in Portland, Maine, Chimani has become a leading developer of mobile apps for the outdoors. Chimani is developing a portfolio of mobile app destination guides targeted at transforming the national park and other outdoor recreation experiences. Chimani's apps enable visitors to better plan, discover, navigate and socialize during their outdoor experiences. Destination guides are available for the top 18 most-visited U.S. National Parks including Acadia, Yosemite, and Yellowstone. For more information visit http://www.chimani.com or view the app demo filmed in the Grand Canyon National Park: https://vimeo.com/58183356