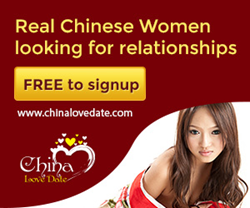 (PRWEB) March 31, 2014
China Love Date, one of the leading international websites in America and the UK, is recognizing the quickly approaching Qing Ming Festival with how-to tips for reconnecting with family members and other ancestors who may be living abroad. The dating website, which helps Western men meet and date Chinese women, is an expert at helping individuals maintain long distance relationships, especially among those dating and married.
For those not familiar with the Qing Ming Festival, the country-wide celebration is one that worships the importance of ones' ancestors, especially in order to celebrate the remembrance of ones' roots. The recognized public holiday typically occurs near the 15th day of the Spring Equinox, and is referred to by the Chinese as "Tomb Sweeping Day," during which the Chinese clean, visit and clean off the graves of their loved ones, and offer their ancestors food and burn joss paper (a symbolic form of money that can be used in the afterworld).
"Connecting with your loved ones near and far, whether they are family members or a romantically involved loved one, is a challenge. It's easy to get caught in the routines of the day and quickly forget that you haven't sent a note to your parents, or even to your girlfriend, in several days," said Marcus. "And, so many times, the recipients on the receiving line can take that as a slight. My recommendation is make it a habit, which makes connecting to loved ones a routine and not more of a task to complete."
Crellin adds more tips to help maintain long distance relationships:

Again, make it a habit to reach out to a loved one. Treat having a conversation with your girlfriend/boyfriend, wife/husband, or parent/sibling as important as you would a business meeting or doctor's appointment – a conversation or meeting time that can't be cancelled.
Depending on the time zones, having lunch or dinner at the same time together, while connecting through the Internet, is an ideal way to imitate "having lunch together." It's a great way to relax and multitask. Sending someone edible gifts to dine on or sip on (think champagne!) is something special that can connect a couple as well. What's more romantic than sipping on the same brand of bubbly? In that same regard, sending a sibling or a grandparent a special dessert to eat during an online chat is equally as thoughtful.
Finally, one of the most heartfelt things I've heard of a couple doing is sending each other letters to open every day for a month. For those who aren't writers – not to worry, pulling up a simple quote will do. But it's those handwritten notes, be it your words or someone else's, that make it all the more intimate.
China Love Date specializes in hosting dating profiles of Chinese women who are looking to date Western men, and connecting couples through online chatting, video chatting, and ultimately, meet ups in China for face-to-face, long-lasting love.
For more information, contact [media contact]; or visit http://www.chinalovedate.com.
About China Love Date
China Love Date is an online dating site designed to help Western men meet women in China. Recruiters search for credible applicants in China, and selected candidates are put through a strict vetting process. For more information, visit http://www.chinalovedate.com.