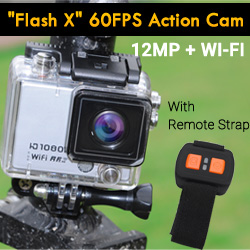 Manufacturing an action cam is as easy as putting a PC together.
(PRWEB) April 09, 2015
In recent years, the market for sports action cams has been growing at an explosive pace with attractive margins earned by dominant players. According to Rose Li, public relationship manager at Chinavasion, low competition in this new market allowed big brands to offer products with over 80% profit margins.
As the majority of the world's sports cameras are made in China, factories are slowly learning that they can sell direct to the end consumer through eCommerce sites like Chinavasion.com. Ms. Li says, "Manufacturing an action cam is as easy as putting a PC together. By cooperating with manufacturers that also produce for established brands, we attempt to make great 1080p action cameras that are exceptionally high value for money."
When asking the question why a brand alternative can be offered at so much lower prices, Li says, "Big brands spends loads of money on marketing and work with middle men to reach their markets. All these costs are charged to the end customer. With our business model we successfully get our devices direct from the source and ship it to anywhere in the world."
According to Chinese wholesale company, the market for sports cameras will become bigger after the introduction of more affordable action cams. "Sports enthusiasts who before couldn't afford such devices, are now able to purchase one without compromising on quality," says Li.
One of the sports cameras sold by Chinavasion, which is anticipated to become a big hit worldwide, is the Flash X 1080p action camera that can record at full HD resolutions. Moreover, it can record at 60 frames per second; this allows it to be used for the capture of fast actions at a professional clarity. "We don't just want to built a sports cam for beginners, it should be able to capture high quality footage for professional use," says Li.
Besides, the quality hardware Chinavasion also reveals another feature that the brand competitors do not offer at this time: a remote strap that can allow users to take pictures and record video right from the wrist. Li says: "What we learned from our users is that it's not always easy to press the record button, when you wear the camera on an inconvenient place such as your arm or head. Our design team solved this with the manufacturer by adding a remote control strap for easy control of the video and photo functions."
Chinavasion is a professional China wholesale supplier of 1080p action cameras as well as other wholesale electronics and China gadgets that all come with 1 year warranty.