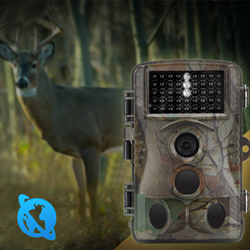 small business can place orders for just one piece with Chinavasion, completely eliminating inventory risk.
Shenzhen, Guangdong (PRWEB) November 27, 2015
Hunting and game cameras were once only affordable for seasoned hunting professionals, but in recent years they have fallen in production cost while improving in quality. While the key players in the market are still charging high mark ups, increased competition from Asian companies, like Chinavasion, are attracting consumers seeking better prices.
More and more startups are now embracing the opportunity of lower manufacturing cost as well as cutting out the middle man.
Sourcing Manager at Chinavasion, Mr. Eric Yu said, "The growth in Chinese electronics manufacturing has had the knock on effect of making many shared components more widely availability. This in turn has resulted in lower assembly and manufacturing costs for a wide range of electronics including hunting and game cameras. Thanks to lower unit costs we can empower our small business and drop ship customers to source outdoor electronics direct from China and sell them locally at an absolute price advantage".
It is this growth that has seen more manufacturers producing products for the hunting and outdoor market, and as such Chinavasion has been able to offer a wider choice of trail and game cameras at more affordable prices to B2B re-sellers.
"With hunting and outdoor manufacturers on the rise in China, the quality of products has shot up. As they each jostle to get established in the market, the competition has led to lower prices for consumers." Mr. Yu said.
This has allowed Chinavasion to source and stock high end hunting products that are comparable to Western brands in performance but at more affordable prices. "Unlike sourcing products from large mainstream platforms, who only accept bulk orders, small business can place orders for just one piece with Chinavasion, completely eliminating inventory risk," said Eric Yu.
Ms. Rose Li, PR Manager at Chinavasion, advised, "This offers a rare opportunity for re-sellers and drop shippers alike, who can now offer a broader range of goods at more competitive prices and see greater profits."
Most game cameras support 1080p full HD video recording and have extensive night vision as well as fast trigger times and wide fields of view. With solar charging options and cellular connectivity there are cameras available that provide live updates via text messages.
With a full range of feature rich hunting cameras Chinavasion is starting to make a name for itself as a supplier of choice for many re-sellers involved in drop shipping, who can enjoy express delivery options and fast dispatching of goods.