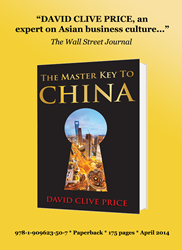 A careful study of Chinese culture should precede all business forays into China.
London, UK (PRWEB UK) 18 March 2014
The AlixPartners Annual Global Anti-Corruption Corruption Survey 2013, conducted by international business advisers AlixPartners and released on 12 February 2014, interviewed lawyers and executives of multinationals involved in compliance and found 25 per cent avoided China and the Middle East for fear of corruption, while 39 per cent avoided Africa.
David Clive Price takes issue with some of the more simplistic conclusions that companies may draw from this survey about China. He points out that corruption exists in all societies, not least in the financial markets of the West, and that the same report revealed that 54 per cent of executives considered corruption to be unavoidable in several countries in Southeast Asia. In addition, 30 per cent of those surveyed said that their industries were exposed globally to significant levels of corruption.
'This is not to underestimate the problem,' says Price. 'However, Western businesses should also be aware that ethical problems in doing business in China or perceptions of such are often traceable to misunderstandings and lack of cultural awareness. A careful study of Chinese culture should precede all business forays into China.'
'Nowadays there are numerous legal and risk assessment specialists with offices in China that provide business intelligence, background checks and risk assessment consultancy,' says Price. 'However, no amount of due diligence will protect a foreign investor from a collapse in business relations. It is vital that any market entry with Chinese partners at home and abroad is based on trust.'
'The good news is that the Chinese government is making strenuous efforts to tackle corruption and that Western governance standards are being gradually assimilated.'
ABOUT DAVID CLIVE PRICE
With 25 years' experience of Asia business, David Clive Price helps Western companies, SMEs and entrepreneurs to launch and expand in Asian markets. His International Business Passport consulting packages and bestselling Master Key Series offer proven strategies for building profitable partnerships and gaining competitive advantage.
Media Contact Info
David Clive Price
david(at)davidcliveprice(dot)com
Location: London, UK