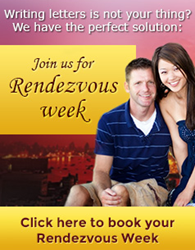 (PRWEB) July 10, 2014
China Love Date, a leading site to help Western men meet Chinese women, announces its latest member-only event, Rendezvous Week. During this week, China Love Date staff will help to coordinate the meet-ups of men and Chinese women, and men can anticipate one full week of meeting beautiful Chinese women.
During this week, men can meet the Chinese women that they have chosen in advance to the trip. Then, upon arriving in China, China Love Date will coordinate chauffeur services to whisk members from the airport to their chosen hotel to ensure optimal comfort during their week-long stay. In addition, a Chaperone translator will be on-hand during the week to make sure that all conversations are clear between male members and their female counterparts upon meeting and conversing.
Marcus Crellin, creator of China Love Date, decided to spearhead the concept of a meet-up week into fruition. According to Crellin, meeting in person can help to enhance a relationship to the next level.
"In my experience, first meet-ups are everything in getting to know a person better," said Crellin. "I've had experience in online dating, and that's why I created ChinaLoveDate.com, to help people get to know one another better. Meeting someone face to face, and talking with them over drinks or dinner, and observing their body language and facial expressions, takes online communication to a whole other level."
Rendezvous Week is open to members in a variety of locations. Members can choose from the following cities to meet their selected females of interest:

Shenyang
Chengdu
Changsha
Chenzhou
Guangzhou
Zhengzhou
Shenzhen
Beijing
"Oftentimes, written communication isn't always a strong suit of members," said Crellin. "This is why Rendezvous Week is perfect. Also, they say you can tell everything about a person in the first several minutes of a meeting and, for me, it's always proven to be an exciting, adrenaline-rushing moment when I've met females with whom I've spoken over a period of time. It just makes a 2-D relationship even more so well rounded, taking things to a 3-D level."
For more information about China Love Date, Chinese cultures, and the profiles of Eastern women, please visit http://www.chinalovedate.com.
About China Love Date
China Love Date is an online dating site designed to help Western men meet women in China. Recruiters search for credible applicants in China, and selected candidates are put through a strict vetting process. For more information, visit http://www.chinalovedate.com.