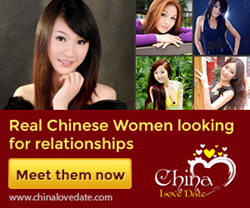 (PRWEB) February 27, 2014
China Love Date, a leading, worldwide matchmaking and dating service, announces its new and updated support services, inclusive of the newly added translation services, to help Western men meet Chinese women according to proper Chinese cultural standards. These dating support services help to bridge the gap due to culture differences, and help ease all parties into comfortable relationships that may then flourish into true love.
For starters, the online dating process begins when a man browses a wide variety of online female profiles. China Love Date stands by the legitimacy of its members, ensuring that their females have been scouted and vetted by third party agents, and that profiles on the site are of females associated only with China Love Date.
"I find that I receive many questions about how to approach a woman from China," said China Love Date creator Marcus. "But, it's easy. We take much of the awkward introductions out of the dating process. For instance, you can choose from a variety of pre-written Love Notes to make an initial reach out to a female of your choice. That way, you don't have to worry about any miscommunication mishaps or fear accidentally offending anyone."
Once the first reach out is complete, male members of the site can then write more personalized notes, as well as obtain access to letter translation services. Should a couple become interested in each other, the male can then send gifts, such as flowers, makeup, chocolates, and perfume, which are all pre-selected by the service and make great surprises, like for the quickly approaching Valentine's Day. As conversations progress, beauty (or telephone calls) and video calls are personalized options to help male members hear and see their Chinese female for an even more intimate connection.
Finally, should a male member be interested in visiting China, a rendezvous can be set up and coordinated by China Love Date to ensure parties comfortably meet. China Love Date can also help recommend meeting spots, such as the popular Beijing Opera, Tianqiao Area, and Sanliturn Pub.
"I established this site to help people find their counterpart," said Crellin. "While you may have never thought that your true love resided in another country, it's a possibility that may hold true. Now, with the conception of the Internet, helping men find that one true love in a sea of people is even more possible."
For more information about female members and the setup of rendezvous, please visit our How it Works pages.
About China Love Date
China Love Date is an online dating site designed to help Western men meet women in China. Recruiters search for credible applicants in China, and selected candidates are put through a strict vetting process. For more information, visit http://www.chinalovedate.com.