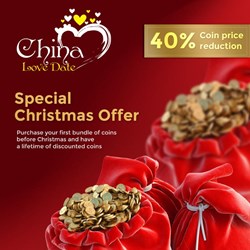 Happy Christmas
(PRWEB UK) 4 December 2013
China Love Date, a leading online dating website designed to help Western men find love with Chinese women, is announcing its reduced coin rate. The dating site uses a form of online currency, specific to the site, which members use to send females love notes, gifts, beauty calls, and video calls. The offer will reduce coin costs by 40% leading up to Christmas.
Men can browse thousands of online profiles to discover which women are the most appealing to them. Each female's profile includes a biography, photographs, and detailed answers to questions about their highest level of education, if they foresee marriage and children in the future, if they would relocate, and more. In addition, physical attributes are listed about a female's weight, height, build, and specific ethnicity.
If a specific profile piques a man's interest, more personal interactions may be taken. Sending gifts is a popular feature on the website, and men can use the reduced coin values to send flowers, stuffed animals, beauty care packages, chocolates, or perfume. Additionally, men have the option to take a picture of the selected female at the time the gift is delivered.
For those interested in signing up for the site, visit http://www.chinalovedate.com. Membership is free, but to interact costs various coin amounts. The more coins that are purchased, the less each costs individually. For instance, 25 coins cost $35, while 800 coins cost $560. The most popular deal amounts to $185 for 200 coins. But, with the 40%-off deal, prices will be slashed drastically: $25 for 25 coins, $110 for 200 coins, and $370 for 800 coins.
"I'm excited about helping men find love during the holidays, which can be a lonely time for people," said site creator Marcus Crellin. "You just never know when the right person is going to be online at just the right time. I've used dating websites in the past, and I've created my own to ensure the legitimacy of meet ups."
China Love Date uses recruiters, and staff members will coordinate – in person -- any final meet ups in China if so desired. Crellin, in particular, prides himself in the legitimacy of the site, and female members are required to go through multiple rounds of screening to make sure the vetting process is thorough.
"The women on the site are looking for the same thing men are – love. It might seem silly, but who isn't looking for love?" said Crellin. "It's just better when you make memories to share with someone, and I hope we can make at least one person's holidays a little brighter."
About China Love Date
China Love Date is an online dating site designed to help Western men meet women in China. Recruiters search for credible applicants in China, and selected candidates are put through a strict vetting process. For more information, visit http://www.chinalovedate.com.