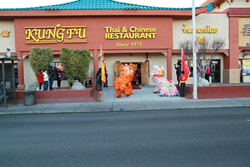 proud to provide the traditional Lion dance to its patrons
(PRWEB) February 18, 2015
In 2015, the Chinese New Year will be touching down on Feb. 19, ushering the world to the year of the Sheep. With increased awareness among Westerners to the significance of the Lunar New Year, Allan Wong, general manger of Kung Fu Plaza Restaurant, is proud to provide the traditional Lion dance to its patrons. The dance will be performed on Thursday February 19, 2015 somewhere between the hours of 12:00pm to 12:30pm, at the Asian restaurant located at; 3505 S Valley View Blvd, on the Southwest corner of Spring Mountain Road. Once again, Patrons, guest, and the public are welcomed to watch the almost half an hour of presentation.
The Chinese Traditional Lion Dance is to be performed by the Lohan School of Shaolin, Las Vegas's premier martial arts experts. Performed by special students at the school which teaches traditional Shaolin Kung Fu techniques, has become a local tradition during this holiday, performing Lion dances at Kung Fu Restaurant for well over 10 years, and now the performers has become a sought after act nowadays, with performances throughout the Valley especially at numerous Casino Resorts during the Chinese New Year in Las Vegas.
The Lunar New Year, lands on a different day from year to year, and typically occurs between January 21st to February 20th. The celebration itself, traditionally, last for 15 days which coincides with the first fifteen days of the new Lunar Calendar, ending with the lantern festival the most important holiday in China. The Lunar calendar is based off of how celestial objects align with one another, like the earth's position, relative to the moon, sun, other planets in our solar system, and its position to other solar systems.
Kung Fu Thai & Chinese Restaurant, which first opened in 1973 in downtown Las Vegas, on 3rd Street and Fremont, is open from 11:00am to 11:00pm for Lunch and Dinner every day of the year. In addition to dining in, the diner offers every menu item for takeout, with a full time food delivery staff delivering meals throughout the valley up to a 5 mile radius, the Asian restaurant will even cater any event. A full time bar along with Beer Wines and Cocktails are available for our patron's convenience to enhance their Oriental dining experience in Las Vegas. To review a complete menu of over 800 dishes from China and Thailand, click; http://www.kungfuplaza.com, or visit us at 3505 S Valley View Blvd., Las Vegas, NV 89103 U.S.A. The diner is located just a half mile to the West of the Wynn Resort, which is on the Las Vegas Strip, it is where the average entrée is $10.00, and is where most diners order and dine family style.
Contact Info:
Name: Allan S. Wong
Organization: Kung Fu Thai & Chinese Restaurant
Address: 3505 S Valley View Blvd Las Vegas, NV 89103
Phone: (702)247-4120