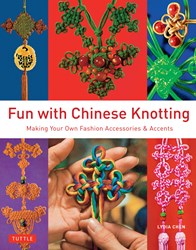 North Clarendon, VT (PRWEB) February 03, 2014
Tuttle Publishing and author artist Lydia Chen have collaborated to release their new book, Fun with Chinese Knotting. Similar to our macramé, the art of Chinese knotting has a surprisingly contemporary appeal. Chen focuses on the decorative uses of Chinese knots to create your own personal fashion accessories—hair ornaments, earrings, necklaces, pendants, brooches, belts, bracelets and anklets—as well as accents that may be added to items of clothing.
Detailed instructions, clear diagrams and lovely color photographs combine to make this book both attractive and useful—displaying the many creative uses these decorative knots can have, and the great variety of materials used to make them. The book is now available and can be purchase in bookstores and online at Tuttle Publishing or Amazon.
About the Author
Lydia Chen is a leading authority on traditional Chinese decorative knotting. She has taught knotting at colleges, held many exhibitions of her work both at home and abroad, and authored a number of books on the art of Chinese knotting.
About Tuttle Publishing
Established in 1948 by Charles Egbert Tuttle Jr. in Rutland, Vermont and Tokyo, Japan, Tuttle Publishing is the premier publisher of English language books on Asian culture. Today, Tuttle maintains an active offering of books on a wide range of topics, including Asian culture, Asian literature, Asian architecture, Eastern spirituality, gardening, cooking, martial arts, crafts, travel, health and wellness, and fine art for a worldwide audience. For more information, visit http://tuttlepublishing.com.