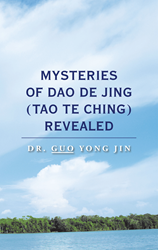 China (PRWEB) January 14, 2019
"Mysteries of Dao De Jing (Tao Te Ching) Revealed" by Dr. Guo Yong Jin is a guide that presents a better understanding of Dao De Jing by dismissing many of its myths and bringing clarity to the teachings and source of its inspiration—nature.
Dao De Jing is a book written by Lao Zi, a Chinese philosopher, and has been circulated for over 2,500 years. Instead of focusing on the semantics of Lao Zi's words, Dr. Guo returns to the roots of Dao De Jing by using simple observations of nature to clarify the text. This approach demystifies Dao De Jing and lays bare the truths and realities of life and the universe for all to understand.
During the process of searching for the truth of the universe and the reality of life, I experienced and experimented to discover that Dao De Jing is one of the highest wisdoms on Earth," said Dr. Guo. "Therefore, I have delivered the wisdom of Dao De Jing to the world in an easy-to-understand-and-apply approach."
"Mysteries of Dao De Jing (Tao Te Ching) Revealed"
By Dr. Guo Yong Jin
ISBN: 9781504314107 (softcover); 9781504314114 (eBook)
Available at the Balboa Press Online Bookstore, Amazon and Barnes & Noble
About the author
Dr. Guo Yong Jin is a doctor of Chinese medicine from Taiwan. He holds a bachelor's degree from Aletheia University of Taiwan and a master's degree from Kaiyuan Chan Buddhist College. For three decades, he studied both religious and secular philosophies. In 1999, Dr. Guo found his calling and became a volunteer for the whole world, enlightening mankind and stimulating world peace. He has published over a dozen books, including "The Wisdom and Application of Dao De Jing," "The Nature Way Meditation," "Agama: The Liberation Path," and "The Profound Meaning of The Heart Sutra." To learn more, please visit http://www.daodejingrevealed.org.
###
General Inquiries:
LAVIDGE – Phoenix
Bryan Beach
480-306-6554
bbeach(at)lavidge(dot)com
Review Copies & Interview Requests:
LAVIDGE – Phoenix
Kiersten Woglom
480-998-2600 x 586
kwoglom(at)lavidge(dot)com