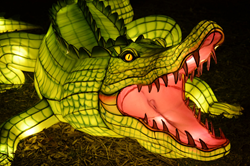 This year's theme, "The Wild," offers an enchanting safari filled with vibrant lanterns in the forms of lions, giraffes, pandas, and many other animals representing every corner of the earth.
BOCA RATON, Fla. (PRWEB) February 22, 2017
Hanart Culture's Chinese Lantern Festival opens Friday, February 24 at 5:30 p.m. at the Sunset Cove Amphitheater in Boca Raton, Florida. Boasting more than 800 illuminated lantern displays and live Kung Fu shows, the festival will provide a stunning visual exhibition of Chinese art and culture. As an added attraction to kick off its opening weekend, there will be a featured traditional Chinese lion dance performance on Friday.
Continuing through April 9 (Wednesdays-Sundays, 5:30 p.m.-10 p.m.), the six-week festival presents a modern and unique approach to the ancient art of lantern-making and caters to visitors of all ages. This year's theme, "The Wild," offers an enchanting safari filled with vibrant lanterns in the forms of lions, giraffes, pandas, and many other animals representing every corner of the earth. Each lantern display is dedicated to a different geographic area including Africa, Asia/Europe, the Americas, and Antarctica.
To create the Chinese Lantern Festival's beautiful dreamscapes of light and color, a team of professional artists from China spent weeks in a temporary "lantern factory" working onsite in Boca Raton. The artists used a combination of steel, rayon and satin for some designs, while fusing paint, ceramic and glass for others. Almost 30,000 hours were dedicated to completing the entire exhibit.
In addition to the unique lantern displays and exciting Kung Fu shows, visitors can also participate in interactive coaching sessions conducted by seasoned martial arts champions. Talented folk artists will give free art demonstrations using techniques such as dough modeling, Chinese knotting, paper-cutting, straw weaving and more. Visitors can purchase high-quality, custom-made souvenirs for themselves, or give them as gifts to family and friends.
Children can enjoy dinosaur rides at Dinosaur Empire, an exhibit with detailed, moving replicas of the pre-historic animals. There will also be an assortment of vendors serving a variety of food, including authentic Asian cuisine.
Tickets can be purchased at the event or online at http://www.ChineseLanternFestival.com. Admission tickets are $25 at the door/$22 online for adults, and $15 at the door/$12.50 online for children ages 4-12. Admission is free for children ages 3 and younger. Special discount rates are also available online for groups of 12 or more.
Seniors and college students receive discounts on select nights. Senior Night is every Wednesday for ages 55 and older. College Night is every Thursday for students currently enrolled. Active members of the military and veterans are eligible for discounts on all festival nights. Tickets must be purchased at event and I.D. presented in order to receive discounted rates.
About Hanart Culture
The Chinese Lantern Festival is produced by Hanart Culture, a premiere events company dedicated to bringing the art and culture of China to the world. Outstanding craftsmen, artisans, and performers showcase their talents in magnificent visual presentations that evoke wonder and an appreciation for ancient Chinese traditions and culture. Established in 2003 in Toronto, Ontario, Hanart Culture offers a catalog of stunning programs that include the spectacular Chinese Lantern Festival and exciting Kung Fu shows. For more information on festivals, visit http://www.chineselanternfestival.com. Stay connected with the latest news from the Chinese Lantern Festival by visiting the event's Facebook page at facebook.com/ChineseLanternFestival, and by following the Twitter feed at twitter.com/FestLantern.
Media Contact:
Pascious Prince, 954-945-5657, pascious(at)hanartculture(dot)com