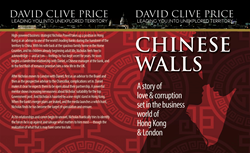 Chinese Walls links up personal problems with truth to the lack of transparency and outright corruption in the years preceding the 2008 crash
London,UK (PRWEB UK) 30 June 2014
Following on the success of his Asia business books, The Master Key to Asia and The Master Key to China, leading Asia strategist David Clive Price will publish a novel that reflects the themes of cultural disorientation, international corporate pressure, and the intricacies of the spin doctor world that he has encountered in his professional life in Asia.
Set around the time of the handover of Hong Kong to China, the novel explores the life of Nicholas Powell, a high-powered strategist for a major international bank headquartered in Hong Kong and tipped to be communications director to the UK chancellor.
Apparently happily married with two grown-up children, Nicholas uses the opportunity of his posting to Hong Kong to fulfill the hidden side of his sexuality. He falls in love with Daniel, a younger Chinese employee of the same bank, and embarks on a relationship that he desperately attempts to keep hidden.
Juggling the two sides of his life, he moves his new love to a discreet apartment in Canary Wharf to take advantage of the recent same sex partnership laws. From then onwards he attempts to prevent his wife, his bosses and the UK media from discovering his secret.
"I think the pressures of coming out in the corporate and political world were particularly acute when the first steps were made to liberalise regulation in the UK. The question for many professional gay men was 'shall I, or shall I not?' Chinese Walls links up this theme with the lack of transparency and outright corruption in the years preceding the 2008 crash," comments David.
ABOUT DAVID CLIVE PRICE
With 25 years' experience of Asia business, David Clive Price helps Western companies, SMEs and entrepreneurs to launch and expand in Asian markets. His International Business Passport consulting packages and bestselling Master Key Series offer proven strategies for building profitable partnerships and gaining competitive advantage. David published his first novel, Alphabet City, in 1981 followed by a series of travel and cultural books about Asia.
Media Contact Info DavidClivePrice
david(at)davidcliveprice(dot)com
Location:London,UK