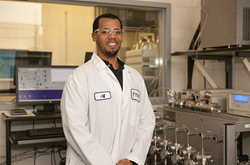 SFC produces fast results with high recovery.
Morton Grove, IL (PRWEB) June 01, 2015
Regis Technologies, Inc. is a recognized leader in developing and manufacturing of chiral stationary phases (CSPs) for analytical and preparative chromatography separations. Expanding the options for its current and presenting solutions for new clients, Regis implemented a Chiral Separation Service to its portfolio. This valuable addition to its core expertise in chiral chromatography provides a fast and effective advantage that can tackle projects for the scale clients need–from milligram to kilogram scale projects for non-GMP and GMP separations.
Regis's RegisSEP™ Chiral Separation Service uses supercritical fluid chromatography (SFC). SFC technology is a widely used and accepted tool for chromatographic separations. The results are fast with high recovery, reducing the cost and making it an attractive purification method for chiral compounds.
The number of chiral, diverse compounds continue to increase and expand into new industries. While predominantly used in the pharmaceutical area, chiral chromatography has important applications in manufacturing of fine chemicals, agrochemicals, academia, etc.
Outsourcing is a strategic decision for its clients, an alternative for their full capacity or separation of more difficult compounds. Many of the companies Regis works with have significant or some chromatographic capacity in-house. Regis also works with virtual companies or clients who do not have resources to invest in the equipment necessary for preparative capabilities. Despite the different reasons for outsourcing, the needs are the same: fast and effective service to obtain pure enantiomers and expertise of a reliable outsourcing partner they can trust.
Regis brings nearly 60 years of experience for chiral method development and separations on a range of different types of CSPs including Pirkle-Type and polysaccharide based chiral columns. Purification projects start with a complimentary chiral screening on an extended range of chiral columns manufactured by Regis and additional leading commercially available chiral stationary phases. Regis completes most screenings upon the day of receipt so that results are available within three days.
If chiral separation by supercritical fluid chromatography is best, Regis' will handle the project in its state of the art SFC Purification Lab, which is part of a 30,000 square foot cGMP facility regularly inspected by the FDA.
For those needing chiral purification for pre-clinical and toxicological studies, Regis can supply an active isomer to complete studies in the shortest possible timeframe; delay asymmetric syntheses route until required; and support med-chem, small animal, and reference studies. For clinical trials and formulation studies, Regis offers GMP chiral purifications.
SFC projects benefit from Regis' additional departmental services including Quality Assurance, Analytical Method Development, Quality Control, Stability, and Project Management. These departments all contribute according to the needs of the project and of the customer. As a chromatography consumable manufacturer and a contract manufacturing organization (CMO), Regis has an onsite team of experts in separations, scale up, synthesis, and quality that can support any project's needs.
RegisSEP™ Chiral Separations Service is a technique with benefits other separation methods cannot provide.
Regis also plans to publish over 100 chiral applications using supercritical fluid chromatography online this summer. The applications span many common compounds and show resolution on their three chiral stationary phases with the broadest selectivity: Whelk-O®1, RegisPack™, and RegisCell™. Visit the Chiral Applications page today to search hundreds of applications using normal and reverse phase chromatography.
Contact Regis or meet their team at SFC 2015 in Philadelphia July 22nd-24th for more information on Supercritical Fluid Chromatography and the RegisSEP Chiral Separation Service.