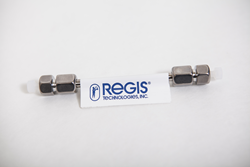 Pioneers of the chiral Pirkle-Type product line explore new possibilities in chiral chromatography for analytical scientists.
Morton Grove, IL (PRWEB) March 31, 2015
Regis Technologies is excited to bring new advantages to analytical scientists working on method development for chiral compounds through the introduction of the sub 2 micron Whelk-O1 chiral stationary phase (CSP). This small particle size has gained popularity for conventional chromatographic analyses for delivering faster and better performance on UHPLC equipment. Now the same advantage will be available for screening and method development for chiral separations.
The Whelk-O1 CSP is ideal for separations of a large number of structurally and chemically different molecules. The addition of sub 2 micron Whelk-O1 phase to its HPLC/SFC family offers one of the most successful chiral selectors for use on the most advanced technologies.
Professor Francesco Gasparrini of "Sapienza" Universita de Roma developed this new sub 2 micron particle size to explore the potential of ultra-fast chiral chromatography for high-throughput analysis. The fast method can be developed with minimum changes of experimental conditions and can be transferred for further optimization for selected racemic candidates.
In addition to the ultra-fast separations to be expected, coupled with new technologies the CSP performs well for separation of additional classes of compounds that were previously not good candidates for separation on this chiral selector, which opens the door for exploring improved selectivity on Whelk-O1.
Professor Gasparrini's work on sub 2 micron Whelk-O1 CSP has been published in numerous publications and presented in the most prestigious industry-related events, most recently at the Chirality Conference in Prague and the Green Chemistry SFC conference in Basel.
The Whelk-O1 is the first Regis sub 2 micron chiral column. In 2015 Regis introduced 3 and 3.5 micron particle size in four chemistries allowing for the achievement of shorter analysis time. These columns are Whelk-O®1, RegisPack™, RegisPackCLA-1™, and RegisCell™. Each column offers different selectivity to cover a wide range of chiral applications.
Regis Technologies provides support and technical expertise to scientists worldwide. For tough analytical challenges, Regis offers a free chiral screening service. The free service provides the screening and finding of the right column for the separation of enantiomers. Regis' technical team sends the best result with a column and conditions within 3 days of receipt of the sample. Customers can find more information on Regis's web site including ways to contact the team directly.
Pioneers of the chiral Pirkle-Type product line, Regis Technologies continues to explore new possibilities in chiral chromatography and bring new analytical advances and solutions to research scientists.