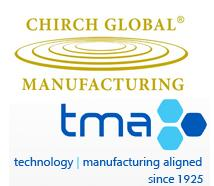 If you are in contract manufacturing, you don't want to miss out on these TMA events.
Chicago, IL (PRWEB) April 30, 2014
Over the past 88 years, TMA has evolved into Illinois' Premier Manufacturing Association, with over 1,000 precision manufacturing and supplier members that are bettering the industry through association. Founded on five pillars of Training, Careers, Benefits, Advocacy & Networking, TMA supports industry by providing educational opportunities, industry representation and services to foster member company global competitiveness.
Three TMA regional events scheduled in May, June and August will be hosted by companies in the Chirch Global Manufacturing Network. These companies include Micron Metal Finishing, Induction Heat Treating Corporation, and ODM Tool & Manufacturing.
Micron Metal Finishing, hosting the regional May event, is a full service large volume custom powder coating job shop serving Chicago, surrounding suburbs, Illinois, Wisconsin, Indiana, Michigan and the Midwest region. With the capability of running multiple colors on multiple lines, they have the flexibility to be able to service their customers with the highest quality finish in the time frame that will allow their customers to gain a competitive advantage in our time sensitive market.
With two batch booth operations, they can provide you with samples and same day if needed. They understand the need for reliable service in today's market, and they have put systems in place to provide that service to their customers.
Induction Heat Treating Corporation, hosting the regional June event, is specialized in a type of heat treating that hardens select areas of steel parts, in order to increase the longevity of the parts where surfaces may otherwise fail. It is a complex process that requires in-depth knowledge of steel properties, heat treat processes and manipulation of electromagnetic energy.
TMA members will learn about the process of induction heat treating and the several types of parts that are required for this process. They will also learn about the needs of the industries that Induction Heat Treating Corporation serves.
ODM Tool and Manufacturing, who will hosting the Regional August event, manufactures a full line of automotive & non-automotive metal components. Their company has been producing metal stampings and welded assemblies for almost 70 years. Starting as a small tool and die shop, ODM is now a leader in the precision metal stamping industry, servicing customers in various industries across North America. Their professionals have over 700 years of combined experience in transfer die and progressive die applications.
"If you are in contract manufacturing, you don't want to miss out on these TMA events," said Jeremy Hahn of Chirch Global Manufacturing. "The companies that make up our Network are among the best out there."
For more information regarding future TMA regional meetings and other events, please visit http://www.TMAIllinois.org.
About the Chirch Global Manufacturing Network
Micron Metal Finishing, Induction Heat Treating Corporation and ODM Tool and Manufacturing are three of fourteen companies that make up the Chirch Global Manufacturing Network. With a wide variety of manufacturing solutions available, this Network can be a single source service provider for just about any type of manufactured parts or assemblies that may be needed.
Learn more about http://www.ChirchNetwork.com.