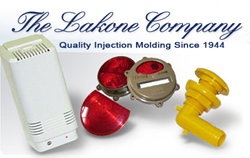 'We pride ourselves on choosing the best companies to reinforce our ability to be an all-encompassing manufacturing destination, so it's an honor to add a business whose longstanding reputation precedes it.' - Jeremy Hahn, Chirch Global Manufacturing
Cary, IL (PRWEB) February 26, 2014
Chirch Global® Manufacturing, LLC today announced the addition of The Lakone Company to the Chirch Global Manufacturing Network. This is the first new induction of 2014 for the network, which is comprised of fourteen highly specialized, world-class companies serving as a one-stop destination for global manufacturing needs.
The Chirch Global Manufacturing Network was created by CEO Anthony L. Chirchirillo to bring together like-minded businesses with distinct manufacturing competencies. This unique, collaborative model grants customers direct access to top manufacturers through one outlet.
Requests for quotes can be sent to Chirch Global Manufacturing, where they are assessed and sent to the appropriate company within the network. Customers can then expect a representative from that company to contact them directly, eliminating the need for intermediary parties. All affiliate companies have been carefully selected to ensure the best possible start-to-finish experience for customers, and the Network has proudly enlisted The Lakone Company as its newest member.
Founded in 1944, The Lakone Company has made a name for itself with its top-quality injection molding. Serving a wide variety of industries including automotive, railroad, military, electronics, medical, housewares and more, the company's longstanding success has been a result of its highly specialized manufacturing capabilities and commitment to creating a superior customer experience. The Lakone Company offers services in the following areas:
· Plastic injection molding
· Custom assembly
· Hot stamping
· Ultrasonic welding
· Shrink film packaging for consumer products
· Solvent bonding services
· Pad printing
"We're thrilled to bring The Lakone Company on board," said Jeremy Hahn, Chirch Global Manufacturing. "We pride ourselves on choosing the best companies to reinforce our ability to be an all-encompassing manufacturing destination, so it's an honor to add a business whose longstanding reputation precedes it."
More information on the Chirch Global Manufacturing Network is available at http://www.chirchnetwork.com.
To learn more about The Lakone Company, please visit http://www.lakoneco.com.
About Chirch Global Manufacturing Inc.
Chirch Global Manufacturing is a leading manufacturer of metal stampings and sheet metal fabrications based in the Chicago area. Through its global manufacturing network, the company is able to provide globally competitive costs, shortened lead times, simplified vendor management and rapid product development, all with the highest quality and best customer experience. For more information please visit the company website at http://www.chirchmfg.com/.