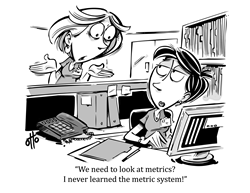 Genesis provides me with all these graphs, radars, and charts that allow me to get an idea in just a quick glance off my iPhone
Clearwater, Florida (PRWEB) March 14, 2015
Genesis Chiropractic Software's new webinar about Practice Health Monitor instructs chiropractic office owners how to use KPI tracking to take control of their practice performance. The webinar is available online here.
Dr. Sandra Haas, DC, Wellness Director of Benchmark Medical Group and a Distinguished Fellow of Chiropractic BioPhysics, says Genesis is an essential part of running her practice because of its KPI tracking ability. "Right on the homescreen Genesis provides me with all these graphs, radars, and charts that allow me to get an idea in just a quick glance off my iPhone of what are we doing and what are we not doing. I don't know any other answer than to say you need a product like Genesis that can provide the solution."
According to Reuven Lirov, Chief Growth Officer at Genesis Chiropractic Software, practice owners must prioritize multiple business goals, subject to limited resource availability. "To build a profitable and growing practice, chiropractors must decide when to hire or fire staff, leave or engage a new payer, start or stop patient marketing campaign, or focus more on patient education," says Lirov. "These decisions are difficult to make because it takes time to research all the relevant data and understand meaningful data interdependencies, such as patient visits, no-shows, charges, revenues, pay per visit, and insurance payments. Poor or untimely decisions can backfire."
Genesis chiropractic practice management software gives chiropractic office managers direct access to the Practice Health Monitor. It includes a customizable chart, which consolidates practice performance across multiple KPIs. A chiropractic office owner can track visually if they are getting paid in full and on time by comparing two line graphs pertaining to Total Billed and Total Collected. If a practice is getting paid correctly and on time, the two charts should be relatively parallel taking into account some of the issues with payers. Superimposing multiple charts gives chiropractic practice owners an instant graphical insight about multiple KPIs and their inter-dependencies. Click here to sign up for the free webinar.
About Genesis Chiropractic Software and Billing Precision, LLC
Genesis Chiropractic Software by Billing Precision, LLC was designed by chiropractic business owners with both patient relationship management and practice profitability in mind. Genesis software provides a complete chiropractic practice management system that supports every role in a busy chiropractic practice, from the owner and practitioners to the front desk and back office. It automates the vast majority of standard tasks, including patient relationship management, revenue cycle management, compliance and office management. Its exclusive workflow functionality continuously improves productivity, control and predictability, fostering teamwork and time savings, which leads to greater profitability and practice growth. Visit http://www.genesischiropracticsoftware.com for more information.