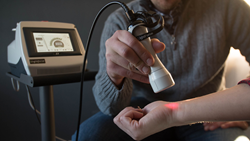 "We wanted to bring this to our practice in Nashville, because we believe that everyone should be treated like a pro, or at least have access to such a great therapy."
Nashville, TN (PRWEB) January 15, 2015
Dr. Callie Gant and Dr. Michael Buczynski of Art of Health Chiropractic in Nashville, TN know that patients want to get out of pain, and get out of pain fast. They opened their Nashville practice in December 2014 with the goal of getting the fastest pain relief and healing options for their patients. This led them to acquire and implement a powerful deep tissue laser – the kind used by professional sports teams—and the most powerful of its kind in any Nashville chiropractor's office.
This new laser, the 15 Watt Class IV LiteCure Medical laser, will be used by the doctors to treat conditions such as neck pain, headaches, back pain, whiplash, arthritis, sprains and strains, and more. The benefits of a more powerful laser are quicker recovery and fewer sessions at the office. The doctors decided to implement the powerful laser treatment into their practice after investigating what treatments elite athletes were receiving.
"After doing some research, we realized that almost every professional sports team had these powerful deep tissue lasers in their treatment rooms" stated Dr. Buczynski. "Professional athletes are healing at a remarkable rate with this laser, which allows them to get back on the field quickly. We wanted to bring this to our practice in Nashville, because we believe that everyone should be treated like a pro, or at least have access to such a great therapy."
Drs. Callie Gant and Michael Buczynski work closely with athletes, musicians, and auto injury victims to ensure personalized treatments to accelerate the healing process.
The deep tissue laser therapy works by accelerating the body's healing processes, decreasing swelling and inflammation, and promoting healthy tissue growth at the site of injury. Treatment times range anywhere from 4-15 minutes depending on the area being treated, and most patients with acute injuries see dramatic results by their third visit.
Those suffering with chronic pain and soft tissue injuries that are interested in learning more about Art of Health Chiropractic's deep tissue laser therapy can visit http://www.artofhealthchiro.com or contact the office at 615-953-7544.