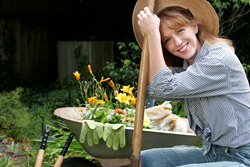 Now that summer is in full swing, go out and enjoy your garden without the back pain.
Vancouver, WA (PRWEB) July 21, 2015
A Family and Sports Chiropractic Clinic in Vancouver, WA recently wrote a series of blogs posts regarding lower back pain that can be caused by gardening. Now that summer is in full swing, many homeowners are enjoying the weather and tending to their gardens.
These blog posts can be found here:
Strategies to Reduce Back Pain While Gardening
Minimizing Gardening Related Back Pain
The first blog discusses the gardening chores themselves and how to cut back on them. One main chore that can lead to severe pain is weeding. The correct combination of shade and strategy can minimize how much pulling is necessary.
Mulching is one technique that can be beneficial. It involves covering the garden space with material in order to prevent the light from nourishing weed seeds, blocking the weeds growing. The application of this process can be strenuous, so seeking help may be necessary if back pain is a concern.
When working in a vegetable garden, back pain can intensify due to the garden being located directly on the ground. To help solve this problem, A Family and Sports Chiropractic Clinic recommends the use of raised beds. Using wood or cinder blocks for raised gardens can provide homeowners a place to sit while they work.
The second blog discusses the act of gardening and how to avoid injuries in the process.
The main point of this post is that gardening and back pain do not have to be synonymous. If gardening is done right, the common pain, aches, and flare-ups can be controlled.
Digging is a process that may lead to muscle tension, but if certain steps are taken, this pain can be avoided.
The blog suggests keeping the body aligned and leaning into the activity with the entire body in order to keep the tension off the back and equally distribute it throughout the body.
A Family and Sports Chiropractic Clinic believes that moving around the space instead of twisting and reaching can help. It may be easier in the moment to stay in one spot, but it can lead to injury.
When performing gardening tasks, sitting can be especially beneficial to those dealing with knee, hip, or back pain. Even when sitting, gardening places a great deal of strain on the back, so it is important to do it efficiently. During this activity, sitting on top of the sitting bones can help remove unnecessary pressure and keep the back from experiencing chronic pain.
Overall, these blogs discuss that pain while gardening can be avoided by simply being careful. Using the right angles, using the entire body, and lifting with the legs can help make gardening easier and the product of the hard work beautiful.