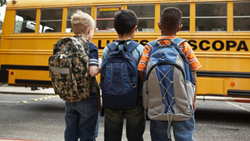 A Family and Sports Chiropractic Clinic in Vancouver WA is sharing advice about heavy backpacks and pain caused by texting.
Vancouver, WA (PRWEB) November 10, 2015
A Family and Sports Chiropractic Clinic is a chiropractor in Vancouver WA sharing advice about texting and carrying backpacks. They recently released two blog posts discussing this issue. Now that school is in full swing, Dr. Chani Henderson and Dr. Michael Hajari believe that these two issues may be at the forefront of back and neck pain in children.
The first blog in the series can be found here, and the second can be found here.
The first post discusses how the more time students spend text messaging, the more they may report experiences with neck and shoulder pain. This was the case in a study done at Temple University.
The blog post also states that: "the students reporting more neck pain when they texted, also found that the shoulder pain was only developed in males as the quantity of text messaging increased, bringing into question whether or not males are more prone to physical discomfort than women when texting."
A Family and Sports Chiropractic admits that it is unknown why texting leads only to shoulder and neck pain, and not pain in the hands, wrists, or other areas throughout the body. To solve this question, they suggest that more research is necessary.
The blog also shares that: "Researchers suggest that these early findings on text messaging in relation to neck and shoulder pain could be comparable to past discoveries about sitting in an office and typing on a computer all day, which can lead to conditions such as; back pain, neck pain, carpel tunnel syndrome, tendonitis, and others."
Finally, the post shares how ergonomic principles may some day be suggested for those who text frequently, just as it is for those who type at a computer at work. Texting is a popular activity that has grown beyond students to many age groups, making it important to be researched.
The second post speaks to the events in which a child may experience pain from carrying their backpacks. This is an event that most children take a part in during the school year.
Some parents may be concerned about their children experiencing pain from carrying their backpacks, and there are some things they can do. Paying attention to certain backpack design features can help to reduce the chances of back pain. Finding a backpack that is made of a padded lightweight canvas material with two padded and wide adjustable shoulder straps can help. A backpack with individualized compartments and a waist belt to redistribute the weight of the backpack from the shoulders and back to the pelvis can also help reduce pain. Using ergonomic principles can also help children avoid pain.
A Family and Sports Chiropractic Clinic offers a variety of services and wants to encourage the community to reach out for a free initial consultation if they notice their children experiencing pain from texting or carrying backpacks.