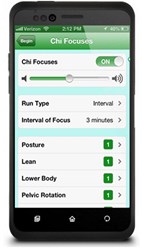 The closest thing you can get to having a ChiRunning coach on demand.
Asheville, NC (PRWEB) December 12, 2013
ChiRunning® is pleased to announce the release of its newest product, the ChiRunning Training app for iPhone and Android. ChiRunning is extending its reach by going mobile, offering runners their own "personal ChiRunning coach" on every run. By focusing on technique, this innovative app helps users become better runners while reducing injury and effort.
The ChiRunning technique, a powerful blend of T'ai Chi principles and running, takes pain and injury out of the running equation by creating a mindful way to train. Hundreds of thousands of runners of all levels have relearned to run as they did as kids: pain-free, improving all the time, loving the freedom.
The ChiRunning app trains runners to gain efficiency and speed without increasing their perceived effort. It also tracks distance, elevation gain, routes, pace, calorie burn and weekly mileage totals. Runners will be coached by Danny Dreyer, ChiRunning creator, with audio reminders included in the Guided Run feature. All runners, from beginners to seasoned marathoners and competitive athletes, can run longer, easier and more efficiently with this beautifully designed, easy-to-use training app.
ChiRunning Training App users will:

Get video lessons on key elements of highly efficient, injury-free running technique
Go for guided runs with audio reminders by ChiRunning creator, Danny Dreyer
Customize their workouts by pre-selecting specific Chi Form Focus reminders
Maintain optimal, efficient cadence with the built-in metronome
Warm up and cool down safely with videos of Pre-run Body Looseners & Post-run Stretches
"This is a fantastic training aid. It's like having a coach along with you on every run. Being able to select the specific technique reminders I need to hear is amazing, as it's important for me to target the areas I'm working on, especially on my tempo runs. I'll be using this app for years to help me continue to improve my running," says David Saltmarsh, Product Line Manager at Texas Instruments.
ChiRunning's mission is to help runners experience the joy of pain-free running for a lifetime, and is taught through books, DVDs, workshops, and training programs. There are many running apps that track workout data, but the ChiRunning app improves the runner and the quality of their workouts.
To receive a complimentary ChiRunning app for review, please email Casey (at) ChiLiving (dot) com.
About ChiRunning
ChiRunning® and ChiWalking®, the mindful movement techniques created by Danny Dreyer and Katherine Dreyer, are brands that go beyond the popular book titles, ChiRunning® (2009), ChiWalking® (2006) and ChiMarathon (2012) (Simon & Schuster/Fireside). The ChiLiving offerings: books, DVDs, audio programs, training programs and workshops are infused with the movement principles of the ancient practice of T'ai Chi and its philosophy of moving from the core. ChiLiving supports groups and individuals to make healthier, long-term fitness choices. Learn more at http://www.chirunning.com.
###