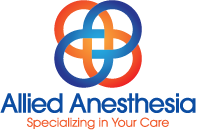 Orange, CA (PRWEB) October 01, 2013
Allied Anesthesia physicians showed their support for Children's Hospital of Orange County by attending the Glass Slipper Guild's annual fundraiser.
Proceeds from the 2013 gala at Big Canyon Country Club in Newport Beach helped fulfill the Guild's $1 million pledge to pay for the 6,400-square-foot Post-Anesthesia Care unit in the new seven-story CHOC tower that opened in the spring.
"We thought it would be nice for Allied to get involved considering we staff that unit," said Dr. Salomon Maya, one of five Allied physicians who attended the May fundraiser. "It's one of our homes."
The gala, which is the guild's largest fundraiser, celebrates the children and families who have been treated at CHOC.
The event gave Maya and Drs. Joe Kim, Jeffrey Sarmiento, Kishan Patel and Jack Canton an opportunity to connect with former patients and their families to see how they are doing and to give back to the community.
Their efforts did not go unnoticed. Maya said one of the speakers, a neurosurgeon, asked the Allied physicians to stand up and be acknowledged for their work.
All of the Allied doctors and their wives contributed to the silent and live auctions and went home with large bags of items they had won. Maya and his wife purchased a night at a fire station for themselves and their children to eat dinner with the firefighters, a spa day and an Xbox with multiple video games.
About Allied Anesthesia: With more than 50 highly qualified anesthesiologists on staff, Allied Anesthesia provides adult and pediatric anesthesia services to St. Joseph Hospital of Orange, CHOC Children's Hospital and many other Southern California healthcare facilities.
Allied specializes in pediatric anesthesia, performing approximately 12,000 pediatric anesthetic procedures a year. All of the group's anesthesiologists have extensive experience in the care of pediatric patients. All Allied anesthesiologists are board certified, and they staff and manage the most efficient operating rooms in Southern California.
Allied is a member of the California Society of Anesthesiologists and the American Society of Anesthesiologists.
For more information, visit http://www.alliedanesthesia.com.