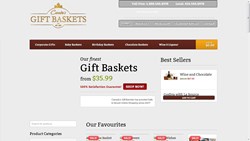 We are offering $13 discount on our Dark Chocolate Collection which is full of individually chosen, delicious chocolates.
Toronto, Canada (PRWEB) December 05, 2013
The leading online store Canada's Gift Baskets is giving a discount of $13 on Dark Chocolate Collection. The regular price for this scrumptious chocolate basket is $79 and after discount it comes for $65.95. The discount is valid till December, 2013.
One of the company executives said, "We are offering $13 discount on our Dark Chocolate Collection which is full of individually chosen, delicious chocolates. This dark chocolate collection includes Godiva Dark Chocolate Truffles, Cacao Dark Chocolare, Dark Chocolate covered Express Beans, Dark Chocolate Truffles with Blueberry Ganache and a variety of other items. Chocolate is something that everyone likes. So, whether it is your grandmother's 90th anniversary or you need to impress that someone special, the dark chocolate basket will be the perfect gift."
Canada's Gift Baskets is the best place to shop for gift baskets at reasonable prices. The store has a wide variety of baskets to choose from including Baby Baskets, Birthday Baskets, Chocolate Baskets, Christmas Baskets, Corporate Baskets, Gourmet Gifts, Luxury Gift Baskets, and more. The delights in Canada's Gift Baskets include everything from dark chocolates to caramel coated almonds. The company supplies its gift baskets to different parts of Canada. Canada's Gift hampers are ideal to be presented on Valentine day, Weddings, Anniversaries, Graduation, Mother's Day and almost every occasion that one can think of. The company also makes sure that its buyers are given the best deals on every purchase.
"We have a huge range of gift baskets to choose from. Every basket at our store is filled with thoughtfully chosen goodies and edibles. We have a team of able staff with expertise in making custom gift baskets. If you want your gift basket to have personalized constituents, just let us know and we will do the job for you," added the executive.
Canada's Gift Baskets delivers gift baskets in entire Canada, so buyers have the convenience of placing an order for their desired location. To know more about the company services, visit its website by clicking here. To shop for gourmet baskets, click here. Buyers interested in viewing the constituents of different baskets can visit the following link.
About Canada's Gift Baskets:
Canada's Gift Baskets is a leading gift basket store based in Toronto Canada. The company is known for its quality gifts that are available at reasonable prices. To have a look at its collection of chocolate gift baskets, click here.
Contact Details:
Canada's Gift Baskets
1068 Avenue Road,
Unit A Toronto,
ON, M5N 2C9 Canada
Phone: 1.888.544.8978
Local: 416.544.8978
Website: http://canadasgiftbaskets.ca/