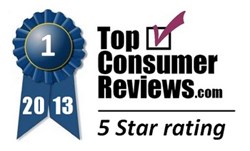 We're very
pleased to receive TopConsumerReviews.com's highest rating... Thank you for recognizing us for our efforts!
Overland Park, KS (PRWEB) October 24, 2013
TopConsumerReviews.com recently awarded their highest five-star rating to zChocolat, an industry leader in online Chocolate stores.
"We're very pleased to receive TopConsumerReviews.com's highest rating," said Adria Higdon, Project Manager at zChocolat. "At zChocolat we're dedicated to providing exceptional French chocolates to our customers with every delivery. Thank you for recognizing us for our efforts!"
Traditionally, giving a gift of chocolate was a time consuming process. Driving to the local grocery store or retail shop, searching the limited selection, wrapping and shipping the item and then driving to the local Fed Ex or UPS store to ship it out the door could take hours out of any busy schedule. Thankfully, with the availability of online chocolate stores, purchasing a delicious and wonderful gift no longer requires more than 5 minutes of time.
"Giving a zChocolat gift provides a wonderful combination of the best tasting French chocolates in a beautiful package," said Brian Dolezal, of TopConsumerReviews.com. "zChocolat takes chocolate gift giving to a new level. These hand-crafted, delicious confections are created by French master chocolatiers and include such choices as praline truffles, lavender dark chocolates, sweet and salty caramel with crunchy praline. To add to the mystique, the chocolates arrive in a beautiful wooden box that may be personalized with customized engraving. zChocolat earns our highest ranking."
To find out more about zChocolat and other online chocolate companies, including reviews and comparison rankings, please visit the Chocolate category of TopConsumerReviews.com at http://www.topconsumerreviews.com/chocolate/.
About zChocolat
In 2000, Jean Philippe Khodara, founder of zChocolat, approached Pascal Caffet with the opportunity to make his award-winning chocolates available worldwide through the internet. This would be the first time that anyone, anywhere could order some of Pascal Caffet's creations to be delivered straight to their door. In 2009, zChocolat began to work exclusively with Pascal Caffet. Pascal Caffet and zChocolat have combined their expertise and experience to bring you the finest French chocolates in the world.
About TopConsumerReviews.com
TopConsumerReviews.com, LLC is a leading provider of independent reviews and rankings of hundreds of consumer products and services. From chocolate stores to gift baskets and dessert clubs, TopConsumerReviews.com delivers in-depth product evaluations in order to make purchasing decisions easier.