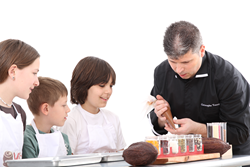 New York, NY (PRWEB) March 04, 2016
Education is at the core of Voilà Chocolat's brand philosophy and at the center of every interaction with its customers. While Voilà Chocolat is not a 'school' per se, they provide educational enlightenment delivered in the form of thought-provoking and engaging entertainment.
As a first step in launching an exclusive and wide-ranging educational offering, Voilà Chocolat will launch its "Chocolate 101 for Kids" class on March 15, 2016. Starting that day, the class will be held every Tuesday from 4 to 5 pm at the Voilà Chocolat Upper West Side atelier at 221 West 79th Street (near Broadway). The class is designed for children ages 3 and older, and the admission cost per child will be $5 (before taxes and online processing fees).
Children will learn the basics about the origins, the production process, and the chemistry of chocolate. They will sample different percentages of milk, dark and white chocolate, and even taste pure cacao, perhaps for the first time. The class will go over how chocolate is manufactured, which countries play a major role in the production and consumption of cacao and chocolate, and who are the people who bring us this most delicious and healthy treat from far-away places to our favorite chocolate store.
Every child will walk away with a handy 1-page summary that illustrates the fascinating step-by-step process of growing, processing, manufacturing and crafting, which transforms cacao into chocolate and artisanal confections. And most importantly, they will walk away with a new level of knowledge and appreciation for the science, craftsmanship and artistry that is behind the high-quality, responsibly sourced chocolate they can make and enjoy at Voilà Chocolat.
The Voilà Chocolat team believes the best customer experiences involve learning something new, and that consumers are hungry for educational experiences that help inform them about what they consume and how their choices impact other people and the global environment.
The company's leadership also sees consumer education as the most powerful force that can change the world for the better. There is much injustice and many challenges in the world of cacao and chocolate, all along the supply chain, but once consumers become aware of these issues and understand what choices they can make, they start 'voting with their wallets' and making the kinds of choices that support and encourage the business practices they feel are morally and ethically acceptable to them personally. Ultimately, when consumers start doing that by the millions, they can have a much larger impact on eliminating the problems that plague the global supply channels for cacao, chocolate and other food commodities.
Over the coming weeks, Voilà Chocolat will continue to roll out new educational classes, targeted at adults, as well as children. These classes will cover the following topics and formats:

Fun, and serious, facts about the history, science, art and socio-economics of cacao and chocolate
Entertaining and epicurean chocolate tasting and pairing experiences
Advanced chocolatiering techniques that can be applied at home or at Voilà Chocolat's chocolatiering ateliers
To book a class, please visit Voilà Chocolat's website at: http://www.voila-chocolat.com or call 212-920-8799.