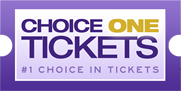 This event remains a huge hit with fans the world over and music lovers don't want to miss it.
Chicago, Illinois (PRWEB) November 26, 2013
Choice One Tickets proudly announces the opening of ticket sales for Lollapalooza, the signature music festival which has hosted great names such as The Black Keys, Foo Fighters and Pearl Jam. Lollapalooza tickets tend to sell out very quickly so fans need to act right away to ensure they get the desired seats. "This three day event spans the globe, with Grant Park hosting the event and Sao Paulo, Tel Aviv and Santiago joining in," Ryan Tanner of Choice One Tickets declares.
Perry Farrell, Jane's Addiction's singer, founded the music festival in 1991 as a farewell tour for the band. The event became so popular that it continued its run until 1997, before taking a six year break. In 2003, Lollapalooza resurrected as a traveling music festival in North America and, two years later, Farrell, the William Morris Agency and Capital Sports Entertainment partnered to change the format to a weekend destination festival. Originally planned for Chicago, the festival expanded to Santiago, Sao Paulo and Tel-Aviv due to its popularity.
A variety of tickets are offered to meet the needs of every guest. Choose from general admission, VIP and Platinum tickets and select a three day pass or one day passes, based on individual schedules and needs. "Tickets sell out quickly for this event, with more than 160,000 people coming together for the festival, so orders should be placed as soon as tickets become available," Tanner explains.
The lineup has yet to be decided for this event, yet tickets continue to go fast as there is so much to see and do at Lollapalooza. In 2013, the organizers offered a variety of activities to keep guests entertained, including an f.y.e. autograph tent where guests could meet with their favorite bands and pick up CDs, DVDs and more. "Lollapalooza continues to be a major attraction as the music remains the focal point of the event, yet guests find plenty of other things to keep them entertained at all times," Tanner goes on to say.
Children ten and under attend the music festival for free and organizers plan activities just for them also. "Kidzapalooza runs from 11AM to 5PM each day of the event and main stage performers may choose to stop by and visit with the children. Karaoke, skateboarding, hip hop and tattoos are a few of the attractions to be found here so parents don't have to leave their children at home to see their favorite bands, which all are sure to appreciate," Tanner continues.
Order tickets for Lollapalooza today to ensure the best seats aren't sold out. "This event remains a huge hit with fans the world over and music lovers don't want to miss it. Don't wait for the lineup to be announced, as doing so could lead to no tickets being available. Choice One Tickets still has great tickets so no one has to miss this amazing festival," Tanner proclaims.
About Choice One Tickets:
Choice One Tickets, a national ticket hub, assists fans in locating the best seats to almost any event at the best price available in a safe and secure manner. View tickets to your event of choice at http://www.choice1tickets.com/.