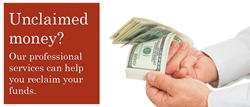 Los Angeles, CA (PRWEB) October 24, 2014
"Approximately one in six people in the United States are the rightful owners of billions of unclaimed dollars. Many people are aware that they own unclaimed property, but many have absolutely no idea they are owners," says Choice Plus in a recently released article explaining how a reclamation company can provide the professional and financial resources needed to reclaim their property.
The article encourages individuals who have been discovered they are owners of unclaimed money or property in the states of Florida and California to seek help from reclamation professionals for more information regarding their case.
Choice Plus emphasizes that, people can claim the money without professional assistance. However, as the article points out, there sensible and practical reasons for partnering with a reclamation agency to do so.
"People often find that their busy schedules don't afford time to focus on locating and obtaining the records they will need to prove they are the owner. Or, they find that they don't have the financial resources and experience to deal with the estate administration that is often required to establish entitlement of a deceased owner's property," the article notes.
They also say that, "There are questions and complexities that not only require your time and money, but they can also cause frustration, as you may not feel equipped to handle issues that come up as the process progresses."
Choice Plus has an over 95% success rate on their reclamation efforts, and they have developed a reputation for tackling the most difficult and complex cases.
For more information about working with Choice Plus to claim your unclaimed money or property, simply visit their website.
Individuals entitled to unclaimed money can partner with Choice Plus and be relieved of the stress and hassle of pursuing their claim themselves.
About Choice Plus:
Choice Plus is a reclamation agency that provides professional and financial assistance to individuals who are entitled to received unclaimed money or property. They specialize in the administrative and judicial proceedings that are required to secure release of assets to their rightful owners. Individuals entitled to these assets can partner with Choice Plus to eliminate the work and uncertainty associated with the process and utilize their professional, experienced, and tenacious assistance. To learn more about their services, visit their website.
Choice Plus
866.446.2086
info(at)cpllc.com
http://www.cpllc.com