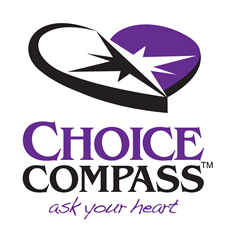 (PRWEB) April 14, 2015
Getting to the heart of difficult decisions just got easier with the release of Choice Compass, a revolutionary smartphone application developed by a cognitive neuroscientist trained at UCSF and Northwestern University, Julia Mossbridge, M.A., Ph.D. The app uses a smartphone or tablet's built-in camera to help individuals choose between two options by analyzing heart rhythms that are related to their feelings about the choices. Choice Compass has been updated for iOS and is newly available for Android devices.
Dr. Mossbridge, CEO and research director of Mossbridge Institute, LLC, developed Choice Compass out of her research into and fervent enthusiasm for the body wisdom concept, which asserts that the body holds information that may be helpful to its owner but is beyond his or her reach.
As a cognitive neuroscientist, Dr. Mossbridge has extensively studied timing, prediction of future events, and now the relationship between imagined choices and physiology. John Bargh, PhD, professor of psychology, Yale, noted, "…we're finding that we have these unconscious behavioral guidance systems that are continually furnishing suggestions through the day about what to do next, and the brain is considering and often acting on those, all before conscious awareness." Dr. Bargh added, "Sometimes those goals are in line with our conscious intentions and purposes, and sometimes they're not."
Bearing this in mind, Choice Compass gets to the heart of the matter by allowing users to access their heart rhythms, which for at least two decades, have been known to physiologists to be related to both conscious and unconscious emotional states.
When confronted with a quandary, a user simply opens up the Choice Compass app, enters two contrasting choices (e.g., "backpack Australia" versus "save for a house"), and holds his or her finger up to the device's camera while considering each of the opposing options for 50 seconds at a time.
During this time, Choice Compass monitors the user's heart rate and the intervals between each of its beats, by tracking how the color of the user's finger changes over time. After each option has been considered, the application compares the results from both sets of data and selects one of them that most closely matches heartbeat patterns gathered while hundreds of testers considered patterns choices. The choice that produced heartbeat rhythms most similar to these joyful rhythms is the final winning decision.
Choice Compass was recently featured in Maclean's, Canada's premier weekly current affairs magazine, which quoted Deborah Rozman - president and co-CEO of HeartMath, in Northern California - on the mechanism that makes Choice Compass possible: "We were researching heartrate variability before it was even called that. If you're angry, anxious, or depressed, your HRV is disordered and jagged, like an earthquake. It's going to look like you feel."
Initially released in beta form for iPhones, Choice Compass has now been fully and extensively tested. Since its market introduction, the application has been thoroughly analyzed across four different, independent experiments to improve and confirm its accuracy. The results led to the application's complete revision, with two major updates: gender inclusion and social media sharing.
It's become evident that the Choice Compass algorithm varies depending on the gender of the user, probably because of hormonal influences on heart rate variability. Thus, it became necessary to allow the user to select a gender for increased accuracy. Also, now users can share the final decision selected by Choice Compass via social media.
Choice Compass is now available for download from the Apple App Store and Google Play Store. For more information on the science behind Choice Compass, visit the website at http://choicecompass.com.