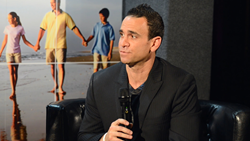 Being in Hollywood and surrounded by an environment where those pressures and temptations could be very prevalent, I think it's very important to promote the different things that are available to people who are going through these things.
South Bend, Indiana (PRWEB) June 15, 2015
Choices Recovery had the honor of sponsoring Durkin Entertainment's "RockNRolla Movie Awards" EcoLuxe Lounge at the famous Avalon Hollywood on April 8th, 2015. Organized by Debbie Durkin, Los Angeles' leading producer of sustainable product placement in TV and film, this daylong event saw a gathering of many of the world's top providers of socially conscious and eco-friendly products and services.
"We were excited to be a part of Debbie's EcoLuxe Lounge again," commented Choices Recovery founder Per Wickstrom. "It was an uplifting experience to work alongside of so many people and companies who care so much about what we put into our bodies and how we treat our planet. We were grateful to have the opportunity to raise awareness about this thing that we call addiction and to inform people about the service that we offer – holistic treatment options and choices in recovery."
Jordan Charles Discusses Addiction & Recovery
The EcoLuxe Lounge, a premier red carpet event that makes appearances at various awards ceremonies and festivals throughout the year, was attended by many of Hollywood's entertainment industry professionals. Several of those guests took a few minutes to speak with TV and film star Chase Masterson, who was hosting the Choices Recovery Celebrity Interview Lounge that day.
One of those guests was attorney turned actor Jordan Charles, who talked with Chase about some of the things that he has observed regarding addiction and treatment in both of his careers. "I think as much promotion as possible is needed with regard to the support services and resources that can be found," Jordan observed. "Being in Hollywood and surrounded by an environment where those pressures and temptations could be very prevalent, I think it's very important to promote the different things that are available to people who are going through these things."
For more information on this topic see our main site. To see the full interview with Jordan Charles, click here: