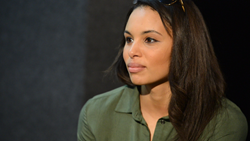 "I didn't want to go out partying. I thought, 'I only have one life and I want to live it to the fullest. I don't want to miss it because I'm hung over. It's my life, I'm going to take control of it.'" - Louise Hazel
Hollywood, California (PRWEB) May 14, 2015
On April 8, 2015, Choices Recovery South Bend, a holistic treatment center for substance abuse and addiction located in South Bend, IN, sponsored Durkin Entertainment's "RockNRolla Movie Awards" EcoLuxe Lounge at the famous Avalon Hollywood. The daylong event, which gathered many of the world's top providers of ecologically sound and socially conscious products and services, was organized by Debbie Durkin, Los Angeles' leading producer of sustainable product placement in TV and film.
"It was an honor to be a part of the EcoLuxe Lounge, working with so many people and companies that care about what we put into our bodies and how we treat our planet," commented Choices Recovery founder Per Wickstrom. "We are grateful to have had an opportunity to inform people of what our rehabilitation program is all about—giving people the Choice they need in recovery."
Joined by TV and film star Chase Masterson, Choices hosted a Celebrity Interview Lounge, where many of the notable attendees of the EcoLuxe Lounge sat and shared some of their time discussing the social problem of addiction and their viewpoints on the matter. One of those guests was Olympic athlete and gold Medalist of the 2010 Commonwealth Games Louise Hazel, who has also made several television appearances over the past few years.
Talking about the decisions that she has made in her life that helped her to be successful in her sport, Louise shared some of the mindset that kept her on the path of living a healthy lifestyle and away from the dangers of drugs and alcohol. "I knew that, to make it to the Olympic games, it would be a challenge and it would take dedication," she told Chase. "I didn't want to go out partying. I thought, 'I only have one life and I want to live it to the fullest. I don't want to miss it because I'm hung over. It's my life, I'm going to take control of it.'" A video of Louise's interview has been released on Choices Recovery's YouTube channel.
Choices Recovery South Bend is committed to raising awareness about addiction in America and to encouraging education about the dangers of substance abuse and the positive alternatives to using drugs and alcohol. Often reaching outside of the halls of their addiction treatment center, Choices aims to be an effective force in the ongoing battle against drug abuse and alcoholism and to offer guidance to those who may be struggling with addiction in their lives.
See full video here: https://www.youtube.com/watch?v=ZEoSnJG3QH4