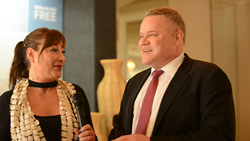 'I'm sad to say my brother died from heroin four years ago at 50 years old,' Mimi shares. 'It's really important for not just celebrities but for anybody in general (who needs help with addiction) to go through recovery.'
Hollywood, California (PRWEB) April 14, 2015
On February 21, 2015, a special event was hosted that transformed the Stardust Penthouse on the rooftop of the luxurious Beverly Hilton Hotel into Durkin Entertainment's EcoLuxe Lounge.
Sponsored by Choices Recovery and organized by Debbie Durkin, the Ecoluxe Lounge and the following "Salute to the Oscars" celebration were hosted by AMP Radio's Chris Booker, Reality TV star Gretchen Christine Rossi and Choices Recovery founder Per Wickstrom.
"Being a part of the EcoLuxe Lounge and the 'Salute to the Oscars' celebration was a thrill," Wickstrom commented afterwards. "Working with Debbie Durkin was a pleasure and everyone had a blast. We were grateful for the opportunity to raise awareness of the social problems of addiction and the service that Choices Recovery provides: holistic options in the treatment of substance abuse."
Lesseos's Involvement in Drug Prevention
The EcoLuxe Lounge was visited by many of today's Hollywood entertainment professionals, including actress and stuntwoman Mimi Lesseos, who took a few moments to join Per Wickstrom and Chris Booker near the stage that was set by Choices and Durkin Entertainment and talked a bit about her personal views on substance abuse and how it has directly affected her life. "I'm sad to say my brother died from heroin four years ago at 50 years old," she shares. "It's really important for not just celebrities but for anybody in general (who needs help with addiction) to go through recovery."
Other notable attendees of the EcoLuxe Lounge included Elise Robertson (Oscar Nominee - American Sniper: Best Picture), Jason Canovas (Oscar Nominee - The Hobbit: Sound Editing), Elizabeth Yianni-Georgiou (Oscar Nominee - Guardians of the Galaxy: Achievement in Makeup and Hairstyling), Ben Wilkins (Oscar Winner - Whiplash: Best Sound Mixing), Kevin Sorbo (Hercules), Claudia Wells (Back To The Future), Jason Davis (Celebrity Rehab), Frank Stallone (Rocky), Chase Masterson (General Hospital, ER), Carolyn Hennesy (True Blood, That 70's Show) and many, many others.