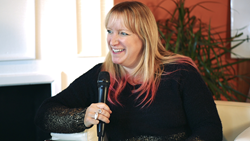 Our mission is more than just the rehabilitation of people struggling with the effects of addiction in their lives.
SouthBend, IN (PRWEB) February 16, 2016
In the second installment of videos in their 2016 EcoLuxe Lounge Sundance FilmFestival Celebrity Interviews, Choices Recovery, a holistic treatment center for substance abuse located in Central Michigan, has shared some of the conversations that took place over the weekend of January 23rd and 24th. As sponsor of the EcoLuxe Lounge, a red-carpet event that showcases some of the world's top providers of eco-friendly and holistic goods and services that makes appearances at Sundance, the Oscars, and the Emmy Awards among others, Choices Recovery hosted a Media Center where dozens of the EcoLuxe attendees chatted with special guest host How2Girl Courtney Sixx.
"Our mission is more than just the rehabilitation of people struggling with the effects of addiction in their lives," commented Choices Recovery founder Per Wickstrom. "If we want to truly make a difference in people's lives, and to make a difference in the fight against drug and alcohol abuse that our society faces today, we have to raise awareness in the general public about these issues, and educate them on the treatment options that are available to them. By reaching out and talking about it, we can bring this issue to the forefront, and perhaps we can offer hope to those travelling that hopeless path of addiction.
"In the second installment of the Choices Recovery Media Center interviews, host Courtney Sixx, the wife of Mötley Crüe musician and songwriter Nikki Sixx who is very vocal about his own recovery from heroin addiction, speaks with actor Jayson Warner Smith, fashion and fitness blogger Erin Evans, and director and producer Susan Dynner. The video interviews are available for viewing on the Choices Recovery YouTube channel.
In a career that has spanned more than 35 years, Jayson Warner Smith has seen plenty of the addiction that runs rampant in the Hollywood scene, yet has maintained a level head throughout. "As an actor, all we have to sell is this," he said, motioning to his body and his mind, "and putting a bunch of junk into it is going to ruin that. I haven't lost any friends to that, but I've seen a lot come close.
"Erin Evans writes for her website Breezles.com, and can also be seen hosting as a TV personality. She spoke about a family member that has been struggling with substance abuse. "We are trying to get her into recovery," she told us. "She has been going through a heroin addiction for quite some time. My father passed away a few months ago, and it was kind of like a life changing experience where she realized 'I need to get better'.
"Susan Dynner won a 2005 Sundance Award for Originality for her film "Brick", and has a couple more in the works. She is also an advocate for recovery from addiction. "There are tons of people that are battling addiction that I know," she shared. "I have a couple of projects with Tim Armstrong from (punk rock group) Rancid. He's in recovery, and he's pretty vocal about it.
"Debbie Durkin of Durkin Entertainment, the industry's leading producer of sustainable product placement in TV and film, is the organizing force behind the EcoLuxe Lounge, and has worked with Choices Recovery as sponsor of the Lounge in the past. The holistic and all-natural approach that Choices takes to substance abuse treatment fits in well with the concepts of the other service providers featured. Finding a healthier way to go about leading fulfilling lives is the basic concept behind both the Choices Recovery treatment program and the EcoLuxe Lounge.