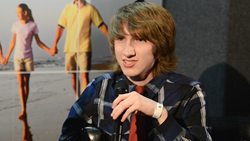 'I've done a lot of charity work,' Nick told Chase, 'and there are homeless people out there who are experiencing addiction. Sometimes, the addiction can cause the homelessness.'
South Bend, Indiana (PRWEB) June 22, 2015
On April 8th, 2015, Choices Recovery sponsored Durkin Entertainment's "RockNRolla" EcoLuxe Lounge at the famous Avalon Hollywood in Los Angeles. This year, the event was hosted by TV and film star Chase Masterson in the Choices Celebrity Interview Lounge.
EcoLuxe Lounge is a premier red carpet event that makes appearances at various awards ceremonies and festivals throughout the year, including the Emmys, the Oscars and Sundance, among others. Organized by Debbie Durkin, LA's leading producer of on-screen sustainable product placement, the EcoLuxe Lounge features some of the world's top providers of socially conscious and ecologically sound products and services.
"We were excited to work with Debbie Durkin again, promoting some of the natural, holistic and eco-friendly goods and services that are available today," commented Choices Recovery founder Per Wickstrom. "As a holistic treatment center for addiction, we are grateful for the opportunity to raise awareness about this thing that we call addiction and to inform people about what we offer – holistic Choices in recovery."
Many of Hollywood's entertainment industry professionals that were in attendance at the EcoLuxe Lounge took some time to sit with Chase Masterson, sharing different viewpoints on addiction in today's society. One of those guests was rising star Nick Azarian, who has had roles in the upcoming indie film Hickey and on TV's The McCarthy's, among many others.
In his interview with Chase, a video of which has just been released on Choices Recovery's YouTube channel, Nick shared a bit about what he has observed in regards to addiction. "I've done a lot of charity work," Nick told Chase, "and there are homeless people out there who are experiencing addiction. Sometimes, the addiction can cause the homelessness. You spend the money on the alcohol and you end up not being able to pay your rent and you get evicted. Then you're out on the streets."
For more information on Choices, see our main website. To see the full video interview, click here:
https://www.youtube.com/watch?v=RaixDR-kDD8