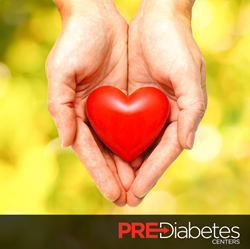 Austin, Texas (PRWEB) February 05, 2015
PreDiabetes Centers promotes American Heart Month and is offering PreD Store shoppers 25% off PreD Cardio Support, a supplement that boosts heart health and improves lipid levels. Savings on PreD Cardio Support, available at The PreD Store, can be redeemed using the coupon code HEART25 at checkout.
February is American Heart Month, which is the perfect time for people to think about the health of their ticker.
Heart disease is the leading cause of death for men and women in the U.S. and a condition that prediabetics and diabetics are at risk for.
Conditions such as high cholesterol and high blood pressure–related conditions of diabetes–can also increase risk for heart disease. In fact, a recent study reports that raised cholesterol levels in middle age can increase the risk of heart disease by 40%.
Many people are unknowingly increasing their risk for heart disease because prediabetes, diabetes, high cholesterol or high blood pressure are left untreated–a common occurrence as these conditions can be symptomless and many people are unaware they are affected.
Fortunately, lifestyle choices and preventive measures can help reduce the risk for diabetes, high cholesterol, high blood pressure, and heart disease.
Taking daily supplements like PreD Cardio Support is one crucial way to promote heart health and is a valuable addition to an overall wellness plan.
PreD Cardio Support is uniquely designed to lower cholesterol levels, and includes vitamin C, vitamin B, red yeast rice, guggul extract, bromelain, taurine, pancreatin, policosanol, coenzyme Q10, and octacosanol.
The PreD Cardio Support offer expires February 28.