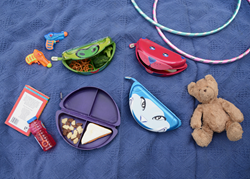 "With Chomp! we hope to provide a product that will make kids want to eat all of their fruits and veggies, while satisfying parents and making the cleanup a bit easier."
Oviedo, FL (PRWEB) September 23, 2015
The design team behind Chomp! launched their Kickstarter campaign today and is looking to raise a total of $50,000 to help bring their product to life. Chomp! is the simple, yet fun, folding plate that turns into a storage container when closed. It's as easy as filling Chomp! with children's favorite food or snacks, closing it shut to save the leftovers and storing it in the fridge for a later time.
Chomp!'s fun characters, which include an alligator, shark, puppy or kitty, will make mealtime fun for little ones, especially when they can use the Chomp! handle to carry it with them anywhere. Chomp! is also microwavable, dishwasher safe and eliminates the need to use any additional storage containers or plates, which means fewer cleanup for parents. With Chomp!, it's easy to prepare breakfast the night before, put it in the fridge and make morning routines a cinch.
"As a mother and a former nurse, I watch the struggles of parents trying to get their kids to eat healthy on a day-to-day basis. I even struggle with my own child sometimes," said the creator of Chomp!, Dawn Janowitz. "With Chomp! we hope to provide a product that will make kids want to eat all of their fruits and veggies, while satisfying parents and making the cleanup a bit easier."
Picky eaters will love the four separate compartments that easily keep different foods from spilling over onto one another. When folded, Chomp! seals shut to keep leftovers fresh so that kids can eat their food at a later time and parents can save money on throwing away wasted leftovers. Chomp! is a great way to keep little ones on a healthy and regular eating schedule that they'll enjoy being a part of.
Early backers can purchase Chomp! plates on Kickstarter for just $15. Backers can also purchase multiple Chomp! plates so no one gets left out. For more information about Chomp!, visit http://bit.ly/ChompKS or email stephanie(at)chompfun(dot)com.
About Chomp!
Chomp! is based out of Oviedo, FL and seeks to be the brand leader of fun, dynamic products for young kids. Chomp! was designed to help busy parents through the use of fun products that make the process of feeding their children easier, while encouraging healthy eating habits. For more information, visit http://www.chompfun.com.