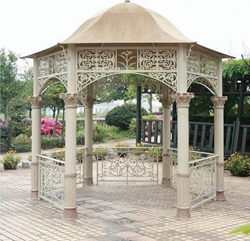 Gazebos can be functional or decorative, can help lend an architectural presence to the places farthest away from the house, and even help establish a theme in the landscape.
(PRWEB) June 10, 2015
HomeThangs.com – the Online Home Improvement Store has made their goal to deliver the right product to the consumer. With that in mind, shopping and home design tips, as well as special product selections are being introduced.
Gazebos are stereotypically associated with big gardens and outdoor weddings, but while the iconic white, Victorian style gazebo certainly fits the bill, that isn't the only style available. In fact, gazebos come in a wide range of styles, sizes, and shapes, and are great for adding a distinctive architectural flair to an outdoor space. The most traditional versions might look best nestled in a prim English garden, but different styles work well in different spaces. HomeThangs.com has introduced a guide to a few less stereotypical gazebo designs, as well as where they work best.
Traditional gazebos are designed to create shelter – small covered havens in the midst of large nature space that can be used for sitting. But gazebos can also be used simply to visually define a sitting area. Gazebos located on a patio or deck rather than out on the grass are perfect for visually separating an outdoor seating set from the rest of the space. Still others are more purely decorative, without the physical substance to protect from the weather or the size for a full sitting area, but with plenty of flair to help establish a stylistic or architectural theme, and to act as a defining element of the surrounding landscaping.
For a more in-depth look at some of these unique gazebo styles, as well as how to use them, check out the full article here.
HomeThangs.com is not only a home improvement superstore, it also provides expert design tips and a comprehensive shopping guide, taking the ideas from professional interior designers, and offering tips to the consumers on how to pick the products to best suit their needs.