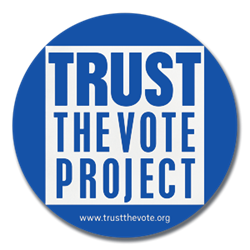 Palo Alto, Calif. (PRWEB) May 20, 2014
The Open Source Election Technology ("OSET") Foundation, the organization behind the TrustTheVote Project, today announced the expansion of its leadership and strategic advisory teams with the additions of Aneesh Chopra, the first Chief Technology Officer of the United States, and Chris Kelly, former General Counsel and Chief Privacy Officer of Facebook. Chopra is joining the Foundation's Strategic Advisory Board and will provide strategic guidance in outreach and partnership-building initiatives with government and technology stakeholders. Kelly has joined the Foundation's Board of Directors and is now the Foundation's leading financial backer.
"I have seen the opportunities to restore confidence in our nation's voting and elections infrastructure first-hand and was struck by the progress and approach of the OSET Foundation," said Aneesh Chopra, co-founder, Hunch Analytics and former U.S. CTO under President Obama. "Their TrustTheVote Project will be a blueprint for the kind of real change that can only be imagined by those who've attempted to innovate other government I.T. services and I look forward to contributing to the groundbreaking work already underway."
"The TrustTheVote project is building an election technology framework that is more verifiable, accurate, secure, and transparent than any proprietary solution," said Chris Kelly, founder of Kelly Investments, co-owner of the Sacramento Kings, and chair of the New Leaders Council. "Our right to vote is one of our most treasured rights as Americans. We deserve a voting experience that instills confidence in the system and encourages participation in our democracy. An open source approach will foster the innovative culture we need to support such an important technology infrastructure."
The TrustTheVote Project is replacing white papers, lobbying, and legislative efforts with results people can see, touch, and try. The project is re-inventing how America votes in the digital age and reinvigorating the industry to support the technology to do so by building an open, adaptable, flexible, and innovative elections technology framework. The project supports all aspects of elections administration including voter registration and related services; systems for creating, marking, casting, and counting ballots; and all back-office functions, plus an open data layer to foster innovative apps to make voting easy and convenient, and reduce those long lines. The results will be freely available open source elections and voting software technology that is:

More accurate, more transparent, more verifiable, and more secure
A delight to use for both elections officials and voters
An enabler of greater confidence in elections and their outcomes
About the OSET Foundation:
The Open Source Election Technology ("OSET") Foundation is a 7-year old tax-exempt 501.c.3 non-profit public benefit corporation located in the heart of the Silicon Valley. OSET is led by a team of social entrepreneurs comprised of seasoned technologists with extensive hardware, software, and systems design experience from leading Tech Sector companies including Netscape, Apple, and Sun Microsystems. The Foundation is chartered with research and education in elections technology innovation with a mission to reinvent voting technology using open data, open standards, and open source in order to increase confidence in American elections and help preserve our democracy.