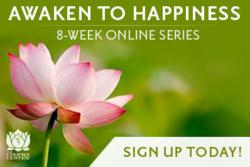 The "Awaken to Happiness" course is designed for anyone who wants to experience more joy, fulfillment, and love in their lives.
Carlsbad, CA (PRWEB) July 11, 2013
The Chopra Center for Wellbeing announced the launch of a new online course– "Awaken to Happiness" – an eight-week interactive course created for anyone who would like to experience more happiness, fulfillment, and love in their lives. Registration is currently open for the free online series offered at Chopra.com. Viewers can sign up here to register for the happiness course.
Over the eight-week series, participants will receive a weekly email with a link to the week's happiness lesson, which includes a guided meditation, video instruction, intention-setting exercises, and other powerful exercises for cultivating a deep experience of happiness and purpose in life. Through the Chopra Center's Facebook page, participants will also have an opportunity to share their experiences and be part of a supportive global community.
"The Awaken to Happiness Series is designed to help people experience the happiness that doesn't depend on external circumstances or events but that is part of our essential nature," said Chopra Center co-founder Dr. Deepak Chopra.
"One of the most common myths about happiness is that if we get what we want – if we achieve success, get the promotion, find a partner, have a child, or fulfill our heart's desire – then we will be happy. This turns out to be false. As researchers have found, it is the other way around: People who are happy tend to experience greater success, better health, and more loving relationships," Dr. Chopra said.
Dr. Chopra's top recommendations for creating a happy life:

Meditation, which opens up deeper levels of the mind.
Taking actions that benefit others.
Social relationships that support intimacy and bonding.
Taking enjoyment in natural beauty.
Having a vision of personal fulfillment that you follow every day.
Aiming for inner fulfillment rather than external fulfillment.
Reducing stress.
Taking time for peaceful reflection.
Learning to love your own company
Resolving conflicts, both inner and outer, rather than letting them build up.
Paying one's debt to the past, which means healing old hurts and grievances.
Stepping away from group think and second-hand opinions.
Cultivating kindness and compassion.
Being generous of spirit, learning to give.
Registration for the eight-week "Awaken to Happiness" series will only be available through August 5. Learn more and register here.
About The Chopra Center for Wellbeing
The Chopra Center for Wellbeing was founded by Deepak Chopra, M.D. and David Simon, M.D. in 1996. Located in Carlsbad, California, the Center offers a wide variety of programs, retreats, and teacher training programs that integrate the healing arts of the East with the best in modern Western medicine. Upcoming events include Journey into Healing: Super Brain, Spiritual Solutions (featuring special guest Michael Beckwith), and the Seduction of Spirit meditation and yoga retreat. The Chopra Center has helped millions of people around the world find peace of mind, physical balance, and emotional healing. The website http://www.chopra.com is your starting point on the path to wellness.
About Deepak Chopra, M.D., F.A.C.P.
Founder of the Chopra Center for Wellbeing
Deepak Chopra, M.D. is the author of more than 65 books, including The Ultimate Happiness Prescription, Spiritual Solutions, and Super Brain. His medical training is in internal medicine and endocrinology, and he is a Fellow of the American College of Physicians, a member of the American Association of Clinical Endocrinologists, and an adjunct professor of Executive Programs at the Kellogg School of Management at Northwestern University. He is also a Distinguished Executive Scholar at Columbia Business School, Columbia University, and a Senior Scientist at the Gallup organization. For more than a decade, he has participated as a lecturer at the Update in Internal Medicine, an annual event sponsored by Harvard Medical School's Department of Continuing Education and the Department of Medicine, Beth Israel Deaconess Medical Center.
For press inquiries and images, please contact:
Kathy Bankerd
Chopra Center Marketing Director
(760) 494-1609
http://www.chopra.com
###