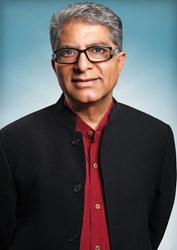 "Meditation and music are both ancient, powerful tools for accessing deeper levels of awareness, healing, and intuition," said Deepak Chopra
Carlsbad, CA (PRWEB) September 19, 2013
This November 3–9 the Chopra Center's Seduction of Spirit: Music and Meditation retreat is coming to the Omni La Costa Resort & Spa, where Deepak Chopra and other master educators will guide participants in a week of meditation, music, and other tools for greater health, creativity, and personal transformation. Each day will include live musical performances by a rich variety of acclaimed musicians and singers, including Rickie Byars Beckwith and members of the Agape International Choir, Grammy-award winning singer/songwriter Beth Nielsen Chapman, soulful singer Steve Gold, and other inspiring voices.
"Meditation and music are both ancient, powerful tools for accessing deeper levels of awareness, healing, and intuition," said Deepak Chopra. "They help us tap into our own infinite possibilities and experience flashes of insight and quantum leaps of creativity and that our linear, logical brain isn't able to make. At Seduction of Spirit we are excited about combining the beauty of live musical performances with some of the Chopra Center's core practices for balance and wellbeing."
This November's Seduction of Spirit: Music and Meditation is especially designed for anyone who wants to begin or deepen their practice of meditation, yoga, and other practices for releasing stress and opening to new levels of awareness, inner calm, clarity – and for those who love music and want to experience its power to enhance their daily practices and life. Through the practice of Primordial Sound Meditation, Seven Spiritual Laws of Yoga, and other timeless tools, participants will begin to:
Begin or deepen your meditation practice
Move beyond limiting conditioned beliefs
Appreciate the gifts of life as it unfolds
Let go of the struggle and achieve more by doing less
Shed layers of accumulated stress
Release the stress and obstacles to balanced living
Tap into your deepest potential to manifest your wishes, dreams, and desires
Seduction of Spirit will take place this November 3–9 at the Omni La Costa Resort & Spa in Carlsbad, California There are a few remaining seats, and guests are eligible to receive special resort rates that can be extended after the event so that they can stay and enjoy the many local attractions and activities in the San Diego area.
Special pricing available until September 30
The Chopra Center is offering a special discount for those who register for Seduction of Spirit by September 30. Learn more here.
For more information, call 888.736.6895, or click here.
About the Chopra Center for Wellbeing
The Chopra Center for Wellbeing was founded by Deepak Chopra, M.D. and David Simon, M.D. in 1996. Located in Carlsbad, California, the Center offers a wide variety of programs, retreats, and teacher training programs that integrate the healing arts of the East with the best in modern Western medicine. The Chopra Center has helped millions of people around the world find peace of mind, physical balance, and emotional healing. The website http://www.chopra.com is your starting point on the path to wellness.
About Deepak Chopra, M.D., F.A.C.P.
Founder of the Chopra Center for Wellbeing
Deepak Chopra, M.D. is the author of more than 65 books, including numerous New York Times bestsellers. His medical training is in internal medicine and endocrinology, and he is a Fellow of the American College of Physicians, a member of the American Association of Clinical Endocrinologists, and an adjunct professor of Executive Programs at the Kellogg School of Management at Northwestern University. He is also a Distinguished Executive Scholar at Columbia Business School, Columbia University, and a Senior Scientist at the Gallup organization. For more than a decade, he has participated as a lecturer at the Update in Internal Medicine, an annual event sponsored by Harvard Medical School's Department of Continuing Education and the Department of Medicine, Beth Israel Deaconess Medical Center.
Media Contact:
Kathy Bankerd
(760) 494-1609