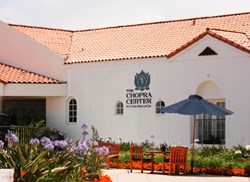 The Chopra Center is known as a global source for learning meditation, yoga, Ayurveda, and other tools for mind-body wellbeing.
Carlsbad, CA (PRWEB) November 20, 2013
The Chopra Center for Wellbeing announced today that it has received two 2013 Workplace Excellence Awards in a competition sponsored by the San Diego Society for Human Resource Management and the San Diego Union Tribune.
Known throughout the world as the global source for learning meditation, yoga, Ayurveda, and other mind-body wellness practices, the Chopra Center has now been recognized as one of San Diego's most outstanding workplaces in the category of small businesses. The Chopra Center also received an award for human resource excellence for developing an innovative leadership team that has had a direct, positive effect on the company's performance and for employee satisfaction.
"We are so honored to be recognized for workplace excellence and as one of the top workplaces in San Diego. The Chopra Center is a very special place and as staff members we simply have a passion for what we do," said the Chopra Center's Human Resources Director, Traci Porterfield.
"The Chopra Center Leadership Team and employees bond together over a mission to change lives throughout the world. By combining a culture of trust, communication, and work-life balance with focused, passionate employees dedicated to meaningful work, we created a formula for true success. We are grateful to the business and HR world for recognizing our efforts and achievements," Traci said.
Finalists for this year's Workplace Excellence Awards were chosen by a team of senior human resource professionals and business experts who individually reviewed each application. The judges looked for clear, specific examples of innovative and employee-friendly human resource practices that led to improved company performance.
About the Chopra Center for Wellbeing
Founded in 1996 by Deepak Chopra, M.D. and David Simon, M.D., the Chopra Center has pioneered the field of integrative mind-body medicine. The Chopra Center's board-certified medical doctors are leaders in their fields and offer individualized patient-centered care that blends modern evidence-based medicine with traditional healing practices. The Chopra Center offers a variety of programs, workshops, teacher training certifications, and online courses, including the popular 21-Day Meditation Experience™, a free guided meditation program led by Deepak Chopra and Oprah Winfrey.
Through their custom Workplace Wellbeing programs, the Chopra Center also helps other businesses and groups create a work environment that fosters the highest levels of health, mind-body balance, creativity, and success.
For press inquiries and images, please contact:
Kathy Bankerd
Chopra Center Marketing Director
(760) 494-1609
http://www.chopra.com