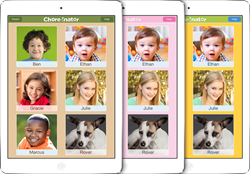 Chore-inator is a fantastic product that has brought consistency and fairness to our parenting.
Richmond, VA (PRWEB) July 24, 2014
Binary Formations, an award-winning family-run software design and development company, today announces the launch of Chore-inator 2.0, the newest version of their award-winning Chore-inator app, which won Macworld 2014 "Best in Show," and was twice named "Best New App" in the Productivity category on the App Store. Five months in the making, Chore-inator 2.0 includes an updated interface and new themes, along with weekly notifications, award system updates, and more info about which chores are getting done.
"We enjoyed such a strong positive response at Macworld that we went right back to work as soon as we got back," said Diane Hamilton, President, Binary Formations. "The new features are a combination of the wonderful feedback we've gotten from parents as well as features we didn't include in the first version of the product. We are proud of Chore-inator 2.0 and know that it will live up to its reputation as the premier app for parents who want to inspire their children to help out around the house."
How Chore-inator Works:
Created by parents for parents, Chore-inator makes heavy use of your own photos for children, the chores they need to do, and the rewards they can earn. This makes it easy for children who have yet to learn to read, while remaining appealing to older children.
Children simply tap on a photo of themselves to see their chores for the day. They then tap the photo of a chore to mark it complete. Since photos are used to represent the chore, there is never any question as to what the finished chore should look like. After completing a chore, your child will have the opportunity to take a "proof" photo to show their handiwork.
Incentives can be tailored to what is most appropriate for each child. An older child might have an allowance whereas a younger child might be able to earn stars that can be redeemed for rewards created specifically for them.
New Features:

An updated user interface
Parents can award bonus stars or take away existing stars
Optional weekly notifications that it is time to pay allowances and approve or deny reward claims
Option to display the number of chores completed for the day and stars earned over each child's photo in Child Mode
The schedule section of the Parent Mode overview gives you more information than ever about your child's daily progress with their chores
Themes let you change the look of Chore-inator
Now changes are synced when you exit Chore-inator if automatic syncing is enabled
What Makes Chore-inator So Special:

Flexible enough to work with the way most households handle chores and incentives. Chore-inator adapts to you, not the other way around.
Whether you are a child checking off chores or a parent managing chores, the interface is designed specifically for the task at hand.
Parents can see their entire family's daily chore activities and manage allowances and reward claims in one easy to digest view.
The interface focuses on showing, not telling, kids what is expected and what they can earn with their hard work, making it quick and easy to understand and adapt to.
Keeps moms and dads who are away from home connected with the household daily chore activity.
Proof photos allow little ones to show off their work and let older kids prove the work is done satisfactorily.
Praise for Chore-inator:
"I travel a great deal. In an average month I am gone 14-16 days and I fly between 70 and 100 hours depending on the line I hold. My wife is also in the airline industry. With our schedule, we were looking for something that would help us keep track of who was doing what around the house. Chore-inator is a fantastic product that has brought consistency and fairness to our parenting."
-- Pete H., Pilot, FedEx, father of three
"Of the hundreds of products on display at the show, the Macworld editors were impressed with the Binary Formations Chore-inator because it takes a unique approach to an everyday problem: getting your kids motivated to help out around the house."
-- Roman Loyola, Senior Editor, Macworld.
Check out Chore-inator Today:
Chore-inator works on all the iPad, iPhone, or iPod Touch devices in your immediate family with one purchase. One low price. No monthly subscription fees.
Download your copy of Chore-inator today: http://www.appstore.com/choreinator.
Trailer Video: http://youtu.be/Wgd9Hv5nQIM
Official Chore-inator website: http://www.chore-inator.com.
Get helpful household tips by following Chore-inator on social media:
Facebook: http://www.facebook.com/binaryformations
Twitter: @Choreinator
About Binary Formations
Based in Richmond, Virginia, Binary Formations is an award-winning family-run software design and development company specializing in applications for the Mac, iPhone, iPad, and iPod touch. Their most popular apps include Home Inventory, recognized as the most complete home inventory management solution for the Mac, and Chore-inator, recognized as the premier household chore app for parents and children. Home Inventory was named a Mac App Store Best of 2013 and Apple Editors' Choice. Chore-inator was named "Best in Show" at Macworld 2014 and selected twice as "Best New Apps" for the Productivity category. Binary Formations has also won widespread media attention. Their apps have been featured in the New York Times, Macworld Magazine, iPhone Life, and other leading publications. The secret of Binary Formations' success is that all their apps start with a personal need in their own family. For more information, visit: http://www.binaryformations.com.
MEDIA CONTACT:
Bill Lessard
Publicist
Binary Formations
http://www.binaryformations.com
914.476.6089 - office
914.330.3501 - cell