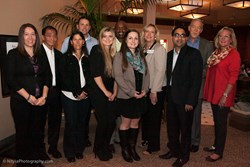 Bringing together doctors and experts in a forum that allows them to speak, collaborate and share information in a patient and caregiver context
Seattle, WA (PRWEB) October 28, 2013
The Chris Elliott Fund(CEF) hosted their second annual Doctor's Dinner on Thursday, September 26th at the Bellevue Club in Bellevue, WA. This was a special invitation event presented by the Chris Elliott Fund for the doctors and experts brought in to the Seattle area for the Brains Matter Patient and Caregiver Awareness Day and Conference. The Chris Elliott Fund staff, board members, and development team were also in attendance.
Dellann Elliott Mydland, President and Founder of CEF expressed the importance of the doctor's dinner in their mission, "the Chris Elliott Fund truly hopes to turn the dial up on getting rid of this disease and we accomplish this through our many initiatives. One such initiative is our doctor's dinner, bringing together doctors and experts in a forum that allows them to speak, collaborate and share information in a patient and caregiver context."
The individuals that were able to attend the dinner included:
Manmeet Ahluwalia, MD, FACP, Section Head, Neuro-Oncology Outcomes, The Rose Ella Burkhardt Brain Tumor and Neuro-Oncology Center, Neurological Institute, Cleveland Clinic
Patrick Y. Wen, MD, Director, Center For Neuro-Oncology, Dana-Farber Cancer Institute, Professor of Neurology, Harvard Medical School
Ben Williams, PhD, 17-year Brain Tumor Survivor, Bestselling author of Surviving "Terminal" Cancer: Clinical Trials, Drug Cocktails, and Other Treatments Your Oncologist Won't Tell You About
Cheryl Broyles, 12-year GBM Brain Tumor Survivor, Rejoicing in Hope
Dellann Elliott offered that this event will kick-start a year-long project in 2014 to hold several conferences in several cities across the United States for this exact purpose of generating information and collaboration around the brain tumor patient and caregiver.
This is an annual event held in concert with the group's brain cancer patient and caregiver conference. The event is made possible through generous support from the Cecil E. Jenks Fund, Novocure, Genentech and The Bellevue Club. For inquiries and more information about the event go to http://www.chriselliottfund.org or call 1-800-574-5703.
About The Chris Elliott Fund
The Chris Elliott Fund (CEF) is a brain cancer and brain tumor patient advocacy organization and national 501(c)(3) non-profit with corporate offices in Seattle, Washington. Established in 2002, Chris Elliott Fund's mission is to end brain cancer by expanding patient access to specialists, advanced treatments and comprehensive support programs. The organization and its advocates directly serves 400+ patients and caregivers every month free of charge. CEF is a member of the Society for Neurooncologists, American Association of Neuroscience Nurses, American Cancer Association for Cancer Research, Washington Biosciences Association, among others. If we can help, please contact us at WeCare(at)EndBrainCancer(dot)com.