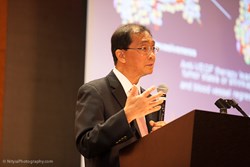 Patient: "Breakout sessions were my favorite part of the conference, we had such an informational time…it was way more than a third opinion."
Seattle, WA (PRWEB) October 29, 2013
The Chris Elliott Fund (CEF) hosted the second annual Brains Matter Patient and Caregiver Conference and Awareness Day, on Friday, September 27th at the Bellevue Club in Bellevue, WA.
This conference was available for patients and caregivers affected by brain cancer free of charge. This event directly benefits the community of brain cancer patients, caregivers and families in the Pacific Northwest, as well as brings patients from all over the United States.
In feedback from the conference, many patients expressed gratitude regarding the conference. One of the most valuable offerings of the conference are the breakout sessions with the conference speakers. "This has proved to be one of the most valuable aspects of the conference" offered Dellann Elliott Mydland, President of CEF. One caregiver offered: "breakout sessions were my favorite part of the conference, we had such an informational time…it was way more than a third opinion. We were so grateful for their accessible explanations."
Another caregiver in attendance offered that the conference is "a reminder that there is always hope, even though the statistics don't represent that. Seeing and hearing form long-term survivors is invaluable!"
The event includes presentations and individual breakout sessions with renowned brain cancer and brain tumor specialists. The event offered a complimentary lunch and breakout sessions with each of the speakers to allow for open discussion on the current experiences and needs of patients and caregivers with experts in the field.
Speakers included Dr. Patrick Wen who spoke about targeted treatments and clinical trials. Dr. Manmeet Ahluwalia of the Cleveland Clinic offered information on the benefits and opportunities with thermal ablation of brain tumors. Dr. Ben Williams offered a wealth of information about his journey through 18 year survivorship as well as Cheryl Broyles, conference keynote speaker, who gave inspirational words on her 13 year journey with glioblastoma brain cancer. Dr. Michael Jensen offered innovative research on new treatments that have implications for leukemia and young glioblastoma
patients. Desert Horse-Grant presented new information on the development of a new Solid Tumor Translational Research program.
The conference offers those affected by brain cancer a day exclusively about the latest advancements in brain tumor treatment for adults and children, clinical trials offered on the West Coast, nutritional support for the brain tumor patient, support for patients and caregivers and a space to connect with others in the brain tumor community.
Dellann Elliott Mydland, President and Founder of the Chris Elliott Fund expressed excitement about this year's conference: "we are so happy to be able to provide this rare and valuable service to patients and caregivers. There are very few organizations providing free support and direct access to one on one time with nationally renowned experts, specifically and exclusively related to brain cancer and brain tumor treatment. We are excited to provide this event now and for many years in the future, free of charge."
The event is made possible through generous support from Genentech, Novocure, and The Bellevue Club. For inquiries and more information about the event go to http://www.chriselliottfund.org or call 1-800-574-5703.
About the Speakers:
Manmeet Ahluwalia, MD, FACP, Section Head, Neuro-Oncology Outcomes, The Rose Ella Burkhardt Brain Tumor and Neuro-Oncology Center, Neurological Institute, Cleveland Clinic
Patrick Y. Wen, MD, Director, Center For Neuro-Oncology, Dana-Farber Cancer Institute, Professor of Neurology, Harvard Medical School
Desert Horse-Grant, Director of Strategic Planning and Operations Solid Tumor Translational Research, Fred Hutchinson Cancer Research Center
Michael Jensen, MD, Director of the Ben Towne Center for Childhood Cancer at Seattle Children's Research Institute and Professor of Hematology-Oncology at the University of Washington School of Medicine
Vannak Cheng, CCRP, Patient Services Support Services & Health Information Concierge Manager, Chris Elliott Fund
Keynote Speakers:
Ben Williams, PhD, 17-year Brain Tumor Survivor, Bestselling author of Surviving "Terminal" Cancer: Clinical Trials, Drug Cocktails, and Other Treatments Your Oncologist Won't Tell You About
Cheryl Broyles, 12-year GBM Brain Tumor Survivor, Rejoicing in Hope
About The Chris Elliott Fund
The Chris Elliott Fund (CEF) is a brain cancer and brain tumor patient advocacy organization and national 501(c)(3) non-profit with corporate offices in Seattle, Washington. Established in 2002, Chris Elliott Fund's mission is to end brain cancer by expanding patient access to specialists, advanced treatments and comprehensive support programs. The organization and its advocates directly serves 400+ patients and caregivers every month free of charge. CEF is a member of the Society for Neurooncologists, American Association of Neuroscience Nurses, American Cancer Association for Cancer Research, Washington Biosciences Association, among others. If we can help, please contact us at WeCare(at)EndBrainCancer(dot)com.