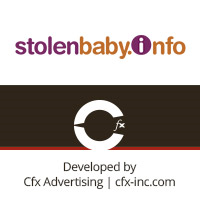 We feel strongly that helping victims of babies stolen from Homer G. Phillips Hospital is a crucial service we can provide to our community. We hope this website will make a difference. — Chris Frank, President and CEO, Cfx
St. Louis, Missouri (PRWEB) May 20, 2015
Evidence reveals Homer G. Phillips Hospital has stolen babies from their mothers for over two decades. In an effort to reunite these families, Chris Frank and Cfx launch stolenbaby.info, a vital online resource for potential victims and family members.
According to St. Louis attorney Al Watkins, "We have found that in the 50s and 60s there was absolutely the availability on the market of infant black children — cash on delivery."
The website includes the following resources:

The ability for potential victims to post photos of themselves at the time they had their baby, as well as photos of themselves at the same age their baby would be today
A blog for victims and families, helping them to connect and share their stories
Instructions and forms for obtaining medical records
Regularly posted content regarding legal updates or new information
The website launched Monday, May 18th, and has already received many stolen baby submissions
"Cfx saw a pressing need that could be met with our talents," said Chris Frank. "We feel strongly that helping victims of babies stolen from Homer G. Phillips Hospital is a crucial service we can provide to our community. We hope this website will make a difference."
Touched by the emotional controversy about whether babies were stolen, the Cfx team went from 0-60 in less than 24 hours. "This is urgent, there can't be one more day that goes by where these families are separated. We need to start gathering information so we can start helping people," said Megan Frank.
Anyone with information about babies taken from their mothers at Homer G. Phillips Hospital, or any information about where those children might be today, should visit stolenbaby.info or contact Al Watkins directly at Kodner Watkins, LC, 314-727-9111.
Sources:
FOX2 NOW ST. LOUIS — POSTED 9:30 PM CDT, MAY 18, 2015
KSDK-TV — POSTED 11:19 PM CDT, MAY 18, 2015
About Cfx:
Cfx is a St. Louis advertising agency providing comprehensive branding, logo development, website design and programming, search engine marketing, search engine optimization, environmental graphics, package and collateral design, copywriting, direct mail and in-house photography services. We have proven experience in creative development and execution for a variety of clients across a wide range of media.