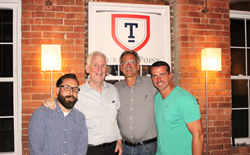 "Not only was it inspiring to hear such a powerful story of human resilience, it was also important for me to hear what he does for his recovery on a daily basis as a member of a 12-step group."
New Haven, Connecticut (PRWEB) June 23, 2015
Turning Point, a leading drug addiction treatment program for young men, welcomed former NBA star Chris Herren as a guest speaker on the evening of June 18, 2015. Herren made an appearance in New Haven, Connecticut to share his personal story of addiction and recovery with an audience of over one hundred Turning Point clients and staff.
As he detailed in his memoir, Basketball Junkie, Chris Herren had a long and arduous battle with substance abuse that followed him all the way from his days as a Division 1 college athlete into his professional career as Boston Celtic. Having grown up in Falls River, Massachusetts, playing basketball for the Celtics was a dream-come-true for Chris, but this did not stop him from losing it all to a debilitating heroin addiction. After over a decade of suffering in active addiction, Chris' friends and family stepped in and offered him an opportunity to receive treatment. Chris has been clean & sober since August 1, 2008, and has committed himself to leveraging his personal experience, and status as a public figure, in an effort to inspire hope in others who've been afflicted by the disease of addiction.
The evening kicked off with the Thursday night Turning Point tradition of celebrating the week's sobriety "birthdays." Turning Point clients and alumni were called to the front of the room, amidst cheers, to celebrate continuous clean time, ranging from 24 hours up to 2 years. One Turning Point client who celebrated 1 year of sobriety in last Thursday's meeting, was particularly affected by Chris' presence. "Chris' home town of Falls River, MA is actually the town that ended up getting the best of me in my addiction. How very strange that he would be visiting Turning Point on the day of my 1 year anniversary."
Chris spoke for well over an hour in front of a captivated audience of Turning Point clients and staff. "Chris confirmed for me in a very personal and intimate setting that addiction cares nothing about who you are, where you came from, how much money you have, what you have accomplished, or the accolades that have earned and been bestowed upon you. It was clear that our experiences were the same in many ways and that recovery was available to those willing to put in the work with a redirected focus," said John Palmer, Executive Director of Turning Point. "Truly an amazing, powerful experience."
"Chris pulled no punches. He challenged our guys to take their responsibility to one other seriously. He challenged us all to take a stand against a culture that tells us that young men aren't supposed to be vulnerable to one another," said Gordon D., a Turning Point staff member. "He certainly made an impression on our community."